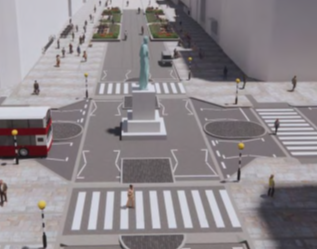 Our sustainable transport hierarchy is set out in our City Mobility Plan and clearly prioritises walking and wheeling, then cycling, then public transport.
In line with this, the proposed design for George Street improves the quality, range and integration of sustainable travel options.
Generous space for cyclists allows for family and leisure cycling as well as commuting. This is safe and clearly marked with extensive cycle parking along the length of the street.
Key transport considerations
The City Centre Transformation strategy aims to develop transport networks and enhance public spaces which enable safe movement in a sustainable way addressing the climate emergency and providing a walkable city centre.
Through the delivery of this strategy and the wider City Mobility Plan, the city centre will become largely car-free by 2030.
As part of this ambitious change, by 2025, vehicle access to George Street will be significantly restricted to essential access only, which includes blue badge parking.
The Meadows to George Street and City Centre West to East Link active travel routes will provide direct cycling links to George Street and other parts of the city. Watch our film about how we are connecting the city centre with these three major projects.
Walking and wheeling
The design focuses on creating a better place for walking and wheeling and the value of George and the First New Town as a city centre destination. To achieve this, all non-essential parking will be removed and space redefined to include wider pavements and landscaped seating areas within each block.
The pedestrian areas will be delineated by a low upstand kerb providing designated clutter free, accessible areas for walking and wheeling, using an appropriate range of high-quality finishes.
The largely car-free design will support walking and wheeling through and across the First New Town and will include:
improved pedestrian crossing facilities at each junction along George Street. This will include reduced crossing distances, single stage crossings and adjusted traffic signal phases to increase pedestrian crossing time.
new formal pedestrian crossing facility on the northern section of Hanover Street at Thistle Street.
informal pedestrian crossings at multiple points throughout each block.
significantly wider, clutter free pavements on George Street with landscaped seating areas.
Cycling
Vehicle traffic flow along George Street will be restricted to very low levels with the existing central space designed to prioritise cycling, similar to a European-style cycling street.
Cycle Street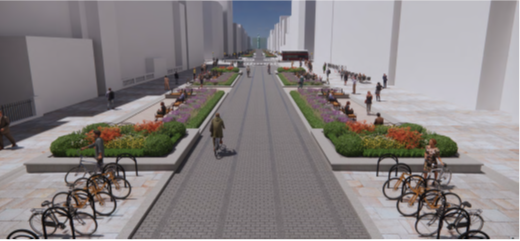 The cycle street is 6 metres wide and runs along the centre of George Street.
Flat topped granite setts create three lanes of equal width which visually narrows the street to what is an appropriate width for cycling. This discourages other permitted motor vehicles from overtaking and keeps the pace of the street slow and keeps cycle street markings to an absolute minimum.
The design will include the following key elements:
largely car-free
cycling is prioritised in George Street and directly connects with the Meadows to George Street and City Centre West to East Link cycle route schemes at Hanover Street, St Andrew Square and Charlotte Square
improved pedestrian crossings at junctions
loading retained for businesses
access to vehicle traffic restricted to blue badge parking and service access during certain times.
increased cycle parking provision, including cycle hire stations and e-bike charging, on each of the streets in the First New Town
signalised junction phases arranged to improve cycle connectivity along the main City Centre West to East Link and Meadows to George Street cycle routes.
Loading and parking
Adequate loading space is provided for deliveries for businesses in the First New Town. Parking is retained except for in George Street which will be restricted to blue badge access only.
The key proposals include:
loading throughout George Street and the wider First New Town, based on needs identified by a street survey.
loading access on George Street restricted to certain times of day and at other times, this flexible space can be used for other street activities, such as events or café/bar spill out space as appropriate.
service access, including the specific restricted servicing and access hours will be set out to minimise and control vehicle access and so cycling remains the priority
details of loading restrictions will be defined through further consultation with businesses and local residents.
blue badge parking will be maintained based on observed demand throughout the First New Town and e-charging points put in place.
shared-use residents and short-stay Pay and Display parking will be retained within the side streets.
Buses and other traffic
A review of the public transport network and the option to remove bus access from George Street is being considered as part of the City Mobility Plan. While the scope of change is still to be fully determined, it is proposed that bus access within George Street will be removed by 2025.
Access to local and national bus networks will still be available from the adjacent side streets including Hanover Street. Tram stops are also located in St Andrew Square and Princes Street.
The key proposals include restricted access
for buses (including tour buses) on George Street although Fredrick and Hanover Streets will remain as core public transport corridors
for taxis on George Street although taxi rank provision will be increased within the side streets
for general traffic on George Street although maintained within the side streets.
Junctions
We have designed the junctions to prioritise walking, wheeling and cycling, and then public transport. They respect the original design with its symmetrical and consistent layout.
We have also considered the different traffic needs on the intersecting streets such as bus access on Frederick Street, Hanover Street and South and North St David Street.
Drivers will not be able to turn right at Castle Street, Frederick Street and Hanover Street junctions.
Road markings, tactile paving, traffic signs and traffic signalling will be defined during the next stage of the project, Stage 4 Technical Design, of the Royal Institute of British Architects (RIBA) Plan of Work.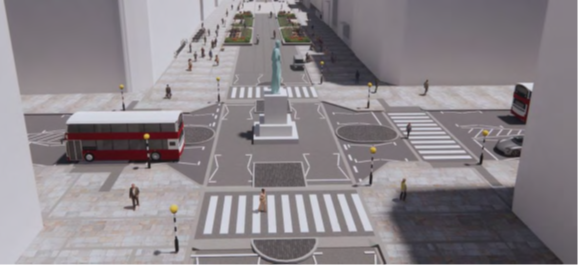 Diagram: proposed layout for the Frederick Street/George Street junction, showing zebra crossings on all four sides of the statue.
Charlotte Square
We will develop proposals for the junction at Charlotte Street as part of the forthcoming Charlotte Square project, linking George Street to the City Centre West to East Link from Randolph Place.
The design will broadly reflect proposals for the junction at St Andrew Square.
Castle Street
prioritises movement along the cycle street
raised zebra crossings
no signals on George Street
continuous footways at the side streets, which is already the case on Castle Street South.
no right turns for motor traffic.
Frederick Street
zebra crossings with no signals
continuous cycle street surface through the junction
raised zebra crossings on George Street
zebra crossings on Frederick Street are not raised so as to allow bus movement
no right turns for motor traffic
Hanover Street
remains a vital route for buses
connects the George Street cycle street with the Meadows to George Street cycle route
raised, signal controlled pedestrian crossings on George Street
signal controlled pedestrian crossings on Hanover Street, not raised to allow for buses
cycles turning right from Hanover Street are able to use the gap space around the monument as a safe waiting space or perform a two-stage right turn
no right turns for motor traffic.
St Andrew Square
North and South St David Streets remain an important bus route
North St David Street includes a cycle route as part of the City Centre West to East Link
pedestrian crossings on the St David Street arms are not raised to allow for buses
move the James Clerk-Maxwell statue to the west entrance to St Andrew Square. This will simplify the layout of the junction. This has been discussed with the sculptor, Alexander Stoddart, and the owners of the staute, the Royal Society of Edinburgh. It will also be subject to planning consent.
Central squares
Large, clutter free areas in the mid sections of each block are located outside prominent buildings in the middle of each block, such as the Dome, the Assembly Rooms and St Andrew's and St George's West church.
They will help
slow down traffic
provide informal street crossing points mid-block
provide spaces where appropriately scaled, temporary events can be hosted on the street.
Ramped kerbs into the cycle street will help to emphasise the priority for anyone walking or wheeling.
Additional measures will be used in and around the central squares, such as tactile paving and bollards and will be developed as part of the next stage in the project.