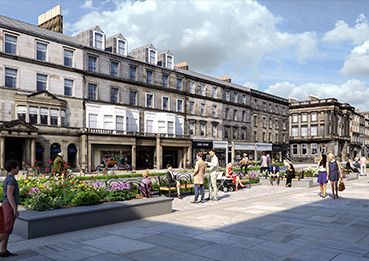 Today, George Street is dominated by cars. Traffic, clutter and parked cars block free movement for other users, as well as views of the beautiful architecture.
The proposed design creates more space on the street for walking, wheeling and cycling, and makes it easier and safer to move around.
Leisure and outdoor eating spaces offer great places to rest, play, meet and enjoy the heritage and culture.
The landscaped seating areas are flexible spaces which could host pop up street art, exhibitions or appropriately scaled events.
George Street today and the same view after construction

View across George Street to the Dome, today and after construction

Key considerations
Increase the existing space available for walking, wheeling and cycling
Provide a safe, attractive cycle route which links to the City Centre East West Link and Meadows to George Street active travel routes
Retain blue badge parking on George Street and the First New Town streets
Remove general parking on George Street
Improve the safety and ease of crossing streets and junctions for pedestrians and cyclists
Introduce seating areas which carefully consider the street's heritage, which will add life to the street and encourage people to spend more time there
Prioritise access for people of all abilities including those with sensory and mobility impairments
Give careful consideration to bus users
Give careful consideration to residents parking, retaining this on Castle Street and Frederick Street.
Accessibility
As well as encouraging more walking and cycling, the proposal has been designed for the needs of anyone with a disability in mind.
Disabled parking bays are provided along the length of George Street and are also located in surrounding interconnected streets.
Level access crossings are provided at street junctions where the road rises to meet the pavement, giving an unimpeded crossing.
There will also be several informal crossing points within each block, and with a narrower central street, the opportunity to walk along and across will be much improved.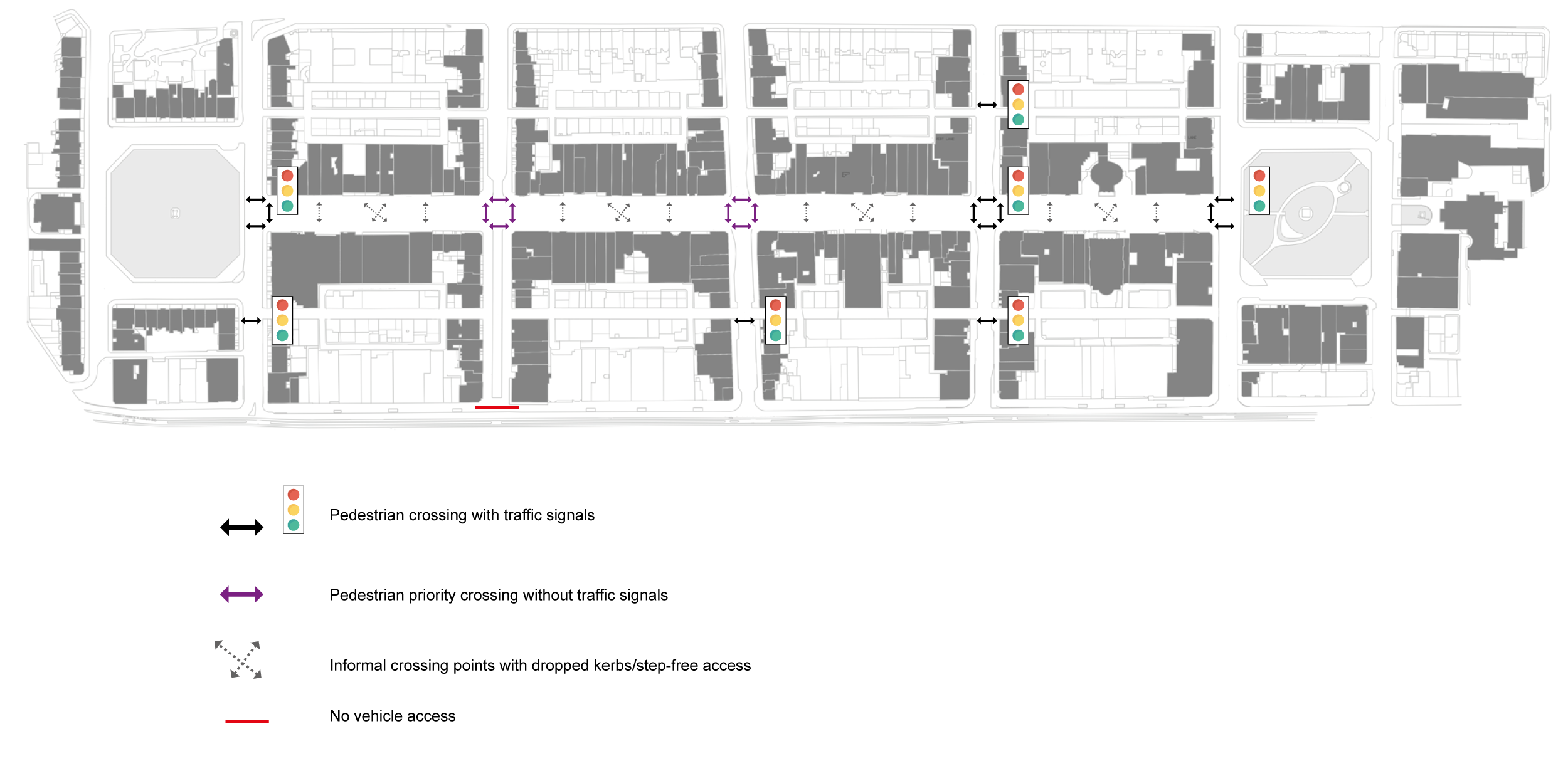 Flexible space
The design is flexible and will accommodate a variety of needs at various times of the day, week and year. Appropriately scaled events can still be accommodated while balancing the needs of others.
Key considerations
Create an adaptable design that caters for a range of appropriately scaled events, whilst retaining clear access for walking, cycling and wheeling
Address the need for infrastructure such as power and water into the design to minimise clutter during events
Recognise the area as a place where residents live and need to go about their daily lives, maintaining clear and safe pedestrian and cycle routes during events
Use lighting to animate the street after dark and throughout winter

Spill-out zones
Pavement
Flexi-zone
Disabled parking (24 hr)
Cycle Street
Loading area (limited access)
Pavements
No pavement will be less than 4 metres wide, varying occasionally to fit with the building lines.
Spill-out zones
Cafes and restaurants can use the area between the pavement and the buildings as a spill-out zone for seating. This will be approximately 2.5 metres wide.
Flexi-zones
A flexible space between the loading/parking zones and the pavement which can be used as a further spill-out area for businesses or for street furniture such as cycle parking and bins.
Safety
Improvements to George Street and the wider area will increase footfall throughout the day and into the evening. This, combined with increased street lighting, where appropriate, will create a safer environment. Counter-terrorism measures, such as bollards and CCTV, will be built into the scheme design.
Safety and security in George Street and surrounding streets
Personal safety has been a priority in developing the design, creating an area which is safe and comfortable for everyone. Some of the tools that are being used to make sure the detailed design results in a safe street are
Get Home Safe audit
The women's safety team from design contractor Atkins carried out the audit in partnership with Police Scotland, several key stakeholders and local elected members.
The Get Home Safely (GHS) toolkit has been developed by Atkins, using best practice from other assessments of public space, such as Walking Route Audit Tool and Healthy Street.
The toolkit assesses public areas and streetscapes against six key themes
landscape
infrastructure
human presence
digital
Love my Street
Community and social
The final audit report highlights risks and recommendations to address these. The Get Home Safely Audit report is included as an appendix to the Transport and Committee Report (3 November).