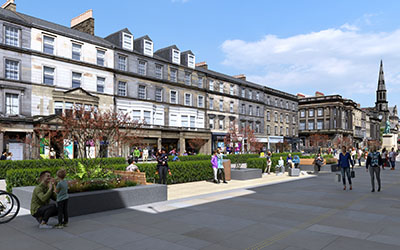 The proposed design creates more space on the street for walking, wheeling and cycling, and makes it easier and safer to move around.
Leisure and outdoor eating spaces offer great places to rest, play, meet and enjoy the heritage and culture.
The landscaped seating areas are flexible spaces which could host pop up street art, exhibitions or appropriately scaled events.
Key considerations
Increase the existing space available for walking, wheeling and cycling
Provide a safe, attractive cycle route which links to the City Centre East West Link and Meadows to George Street active travel routes
Retain blue badge parking on George Street and the First New Town streets
Remove general parking on George Street
Improve the safety and ease of crossing streets and junctions for pedestrians and cyclists
Introduce seating areas which carefully consider the street's heritage, which will add life to the street and encourage people to spend more time there
Prioritise access for people of all abilities including those with sensory and mobility impairments
Give careful consideration to bus users
Give careful consideration to residents parking, retaining this on Castle Street and Frederick Street
Accessibility
As well as encouraging active travel, the proposal has been designed for the needs of anyone with a disability or impairment. Disabled parking bays are provided along the length of George Street and are also located in surrounding interconnected streets. Level access crossings are provided at street junctions where the road rises to meet the pavement, giving an unimpeded crossing.

Flexible space
The design is flexible and will accommodate a variety of needs at various times of the day, week and year. Appropriately scaled events can still be accommodated while balancing the needs of others.
Key considerations
Create an adaptable design that caters for a range of appropriately scaled events, whilst retaining clear access for walking, cycling and wheeling
Build infrastructure such as power and water into the design to minimise clutter during events
Recognise the area as a place where residents live and need to go about their daily lives, maintaining clear and safe pedestrian and cycle routes during events
Use lighting to transform and animate the street after dark and throughout winter
Here we see the sizes and types of spaces that can be used in combination for events, from small exhibitions within one landscaped seating area to a larger event.

Here we see options for space outside commercial premises. Loading bays can also be used as spill-out space outwith servicing hours. These spaces will be clearly defined on both sides of George Street, next to a generous unobstructed pavement, wider than the existing pavement.
Safety
Improvements to George Street and the wider area will increase footfall throughout the day and into the evening. This combined with increased street lighting, where appropriate, creates a safer environment. Anti- terrorism measures, such as bollards, where relevant will be built into the scheme design
A day in the life
We see the early birds out first thing, including the last of the delivery vehicles before the early, set loading time ends. Workers leave at lunchtime to spend time on the street, meeting friends and eating outdoors in space previously taken up by cars and parking. In the evening the street sees people of all ages meeting for meals or drinks.

A year in the life
The street adapts as the seasons change. Spring sees natural light and colour return to the street. Exhibitions or events bring it alive in summer and café culture is in full swing. Autumn arrives and the street becomes a little quieter after a busy summer. Appropriately scaled events carefully use the spaces available whilst retaining a 3.5m wide cycle route to continue uninterrupted. This will bring life through the winter months, defined by beautiful and considerate winter lighting.