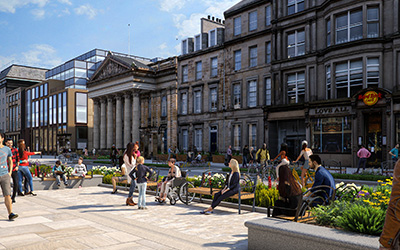 Sustainability is central to the design and the proposals support our ambition to be a net-zero carbon city by 2030.
Significantly reducing vehicle access will encourage more people to choose sustainable transport instead of the car. While introducing a variety of suitable plants and hedging will help to increase local biodiversity.
Investment in well-planned improvements to the outdoor space, including landscaped seating areas is shown to attract more people to visit and spend time in the area.
Good for people: Urban greening and planting for relaxation and enjoyment
Good for the economy: Urban greening is good for local business
Good for the environment: Urban greening combats flooding
Soft landscaping including plants and hedging reduces the impact of heavy rain and floods, making Sustainable Urban Drainage Systems more effective, which absorbs carbon, helps filter out air pollutants and can help improve mental wellbeing
Planting regulates water flow, improves water quality, and reduces urban water run-off. Read about urban rain gardens.
Sustainable urban drainage
Street greening provides an opportunity to increase sustainable drainage. The aim is to reduce the volume and speed of rainwater entering and potentially overwhelming urban drainage systems, which can cause flooding.
Water is held, often in soft, greened areas, where it can infiltrate the ground and re-enter the freshwater cycle. The rate at which surface water drainage re-enters the freshwater cycle is slowed down by the planting, so reduces the risk of flooding.
Greening within the proposals
Previous consultation showed a desire for street planting within George Street. There are currently over 150 uncoordinated, individual elements of street greening, including small trees and shrubs.
The proposals provide a coherent approach to incorporating greenery along the street, with appropriate plants and hedging, that will be visually appealing and add colour, seasonal variation and enhance biodiversity. The specific plants are still to be selected, but they will
be confined to planters and low hedges in landscaped seating areas
only grow to shoulder height to maintain full views of the street while seated
vary in form and colour, provide all-year-round interest and enhance the biodiversity value of the street
be robust and low maintenance. A maintenance plan will be agreed in next stage of the project (RIBA Stage 4 - Technical Design).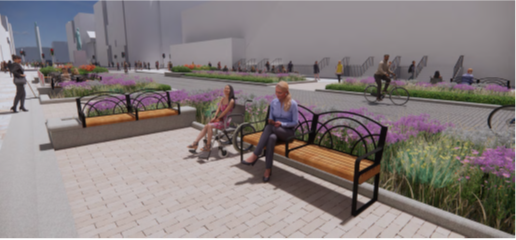 Our plan for a sustainable urban drainage system (SUDs)
A sustainable urban drainage strategy has been developed for the street which
integrates with the unique heritage
helps to make the street more adaptable to the impacts of climate change and helps us reach our goal of being net zero carbon by 2030
is practical to maintain
aligns with the Edinburgh Water Vision

planting
rain garden soil
permeable liner
coarse aggregate storage layer
perforated pipe
impermeable liner
shingle bedding
A number of drainage elements will be incorporated into the proposals including:
permeable paving
rain gardens
linear channels and slot drains on pavements and central squares
kerb drainage units to capture run off from the cycle street.