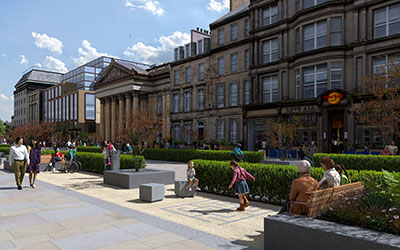 Sustainability is central to the design and the proposals support our ambition to be a net-zero carbon city by 2030.
Significantly reducing vehicle access will encourage more people to choose sustainable transport instead of the car. While introducing a variety of suitable shrubs and hedging will help to increase local biodiversity.
Investment in well-planned improvements to the outdoor space, including landscaped seating areas is shown to attract more people to visit and spend time in the area.
Greening within the proposals
Previous consultation showed a desire for street greening within George Street. There are currently over 150 uncoordinated, individual elements of street greening, including small trees and shrubs.
The proposals bring continuity to greenery on the street with appropriate planting, hedging and green spaces. Large shrubs provide a green connection along the full street between Charlotte Square and St Andrew Square. Shown below is the distribution of planting and hedges within landscaped areas in one block of George Street.
Read more about the benefits of green infrastructure.

Good for people: Urban greening and planting for relaxation and enjoyment
Good for the economy: Urban greening is good for local business
Good for the environment: Urban greening combats flooding
Soft landscaping including shrubs and hedging reduces the impact of heavy rain and floods, making Sustainable Urban Drainage Systems more effective, which absorbs carbon, helps filter out air pollutants and can help improve mental wellbeing
Planting regulates water flow, improves water quality, and reduces urban water run-off. Read about urban rain gardens.
Sustainable urban drainage
Street greening provides an opportunity to increase sustainable drainage. The aim is to reduce the volume and speed of rainwater entering and potentially overwhelming urban drainage systems, which can cause flooding.
Water is held, often in 'soft', greened areas, where it can infiltrate the ground and re-enter the freshwater cycle. The rate at which surface water drainage re-enters the freshwater cycle is slowed down by the planting, so reduces the risk of flooding.
Diagram: water running off footways into soft drainage areas, and surface water flowing off roadways into permeably paved areas.