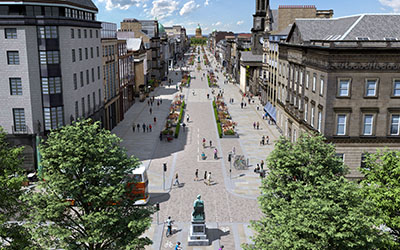 As part of Edinburgh's UNESCO World Heritage Site, the proposal protects the principles of James Craig's simple, geometric and spacious design for the New Town. It enhances the setting of the heritage assets, such as the statues, and improves current views and vistas along George Street.
With his vision in mind, the design maintains the street's symmetry. Removing street clutter and reducing vehicle access will provide more space to appreciate and celebrate the surrounding heritage.
Key heritage considerations
retain symmetry on George Street
remove unnecessary street furniture and clutter
protect and enhance key views and vistas
remove central parking to reduce the current dominance of vehicles
improve the setting of existing statues
careful consideration of the specific locations for appropriate street greening
upgrade the pavements with high quality materials like natural stone
appropriate lighting to enhance the heritage features and character of the street.
Symmetry and rhythm
The diagram below shows the north/south symmetry and the east/west rhythm of the re-zoned street. In keeping with James Craig's original vision, the street follows a regular rhythm along its length, with each block generally having the same elements and uses.
The key components of the street are evenly distributed throughout each block, ensuring convenient access to disabled parking bays, cycle facilities or loading close to shops and restaurants.

Statues
Reduced street traffic frees space for better settings for the statues along George Street. They are given room at junctions and the removal of central street parking allows them to be seen along the length of the street.

Proposed new location for James Clerk Maxwell statue
To create safe junctions for cyclists at St Andrew Square we're proposing to relocate the statue of James Clerk Maxwell further towards the entrance to the Square. From here it will have a commanding view of George Street and both Princes Street and Queen Street, as well as a new prominence as part of St Andrew Square.
Materials
The ground surface on George Street is currently poor with low quality materials in worn condition. The proposal replaces these with high quality natural stone with a long life and of a quality suitable for a world-class city centre street in a World Heritage Site.