Inspiring the next generation of built environment experts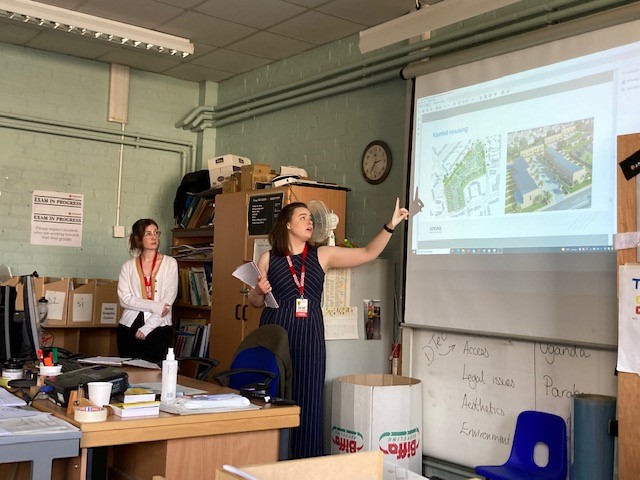 We've been working with high school pupils learning about the built environment.
As part of the Council's ambitious plans for the redesign of George Street, the project team has been supporting our future built environment experts, currently studying at Drummond Community High School.
The design consultants have been working with pupils who are undertaking courses on the built environment. Drummond Community High School has been delivering the Design, Engineer, Construct! (DEC) programmes to pupils in S3 to 6 for over five years. The course offers recognised qualifications in building and infrastructure design that adopt an industry-relevant, sustainable and digital approach, and is highly respected by leading employers and universities.
Over recent weeks professional firms Atkins and Faithful & Gould have provided expert staff to deliver specialist sessions to the pupils on topics including Building Information Modelling, Planning and Procurement, providing real-world examples as well as helping the pupils around specific challenges with their own individual projects that they are developing as part of the course.
Mark Holden, Curriculum Leader for Craft and Design Technology at the School, said: "The industry expertise provided over recent weeks from Atkins and Faithful and Gould, and facilitated by streets-UK, has been invaluable to our young people in developing both their understanding of the different topics and their application to their own project development. As with former pupils in recent years, we anticipate that this level of industry input will contribute to some of our current students taking their new-found interest into further studies and work in the built environment and construction sectors when they leave school."
Samantha Bismark, Architectural Assistant, Atkins, said: "Atkins were delighted to deliver sessions to the DEC pupils covering BIM and Planning led by our in-house experts. The students' engagement and enthusiasm led to thought-provoking conversations about their projects and industry standards. The DEC pilot programme is impressive and sets the students up well for a future in the industry. I hope we see this class in more schools in the future."
Councillor Lesley Macinnes, Transport and Environment Convener, said: "This was a fantastic opportunity for industry experts working on the transformation of George Street and the First New Town to impart their knowledge on the next generation of designers, engineers and planners.
"Once complete, the project will make this iconic street fit for the future, creating a people friendly setting, better walking, cycling and wheeling links and a more attractive environment. It's great that Drummond Community High pupils have been able to learn about the kind of work that goes into delivering these changes."
George Street and the First New Town is one of the key projects in the Council's plans for City Centre Transformation with plans to revitalise the street whilst embracing its much-loved heritage.