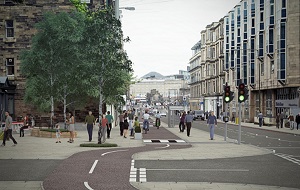 The City Centre West to East Link has been developed over a number of years, with extensive consultation. It reflects our ambition to be net zero by 2030 and the wider vision for the city as set out in key plans including:
City Mobility Plan 2021-2030: a ten-year strategy to transform the way people, goods and services travel around the city.
City Plan 2030: the new Local Development Plan for Edinburgh which will set out policies and proposals for development in Edinburgh between 2020 and 2030.
City Centre Transformation: an ambitious 10-year strategy and delivery plan that seeks to provide a people-focused city centre, which is a desirable place to live, work and visit.
The Active Travel Action Plan: how we are going to encourage more people to travel on foot and by bike more often. Linking to active travel route Meadows to George Street and the planned George Street cycling thoroughfare.
View our film about how the CCWEL links together with the other city centre active travel projects.
Benefits
Active travel routes offer safer, easier options for sustainable travel and a wide range of benefits.
Health – a simple, low‐cost and effective way to incorporate physical activity into daily life. The Edinburgh Bike Life survey found that cycling averts 106 serious long term health conditions annually, saving NHS in Edinburgh £731,000pa.
Environment – replaces short car journeys, reduces traffic, air pollution, noise and the visual impact of traffic in urban areas, together with contributing to the reduction of greenhouse gas emissions
Businesses – people who travel on foot or by bike tend to be healthier, off work less and more productive.
Economy – walking and cycling make very efficient use of road space, so help to reduce congestion. Good environments for walking can also encourage people to relax and spend more time in the area. Research by Living Streets reveals that well planned improvements to public spaces within town and city centres have been shown to boost commercial trading by 40%.
Social – when people walk, wheel or cycle around their neighbourhood they are much more likely to meet and interact, creating community cohesion. It also helps make streets safer through 'social supervision'.
Accessibility
As well as encouraging active travel, the design of the CCWEL takes account of the needs of anyone with a disability or impairment. An integraged impact assessment (IIA) has been carrried out and will be reviewed throughout the duration of the project.
Timeline
2014
Initial feasibility study and route development undertaken.
2015 -16
Public consultation to discuss the project proposal.
2016
Initial design approved by Transport and Environment Committee.
2017
Work progresses on detailed design and statutory procedures (Traffic Regulation Order and Redetermination Order).
2019
Statutory procedures continue and public hearing is held.
2020
Statutory procedures continue and site investigations carried out. Monitoring plan established and baseline monitoring completed.
2021
Value engineering and redesign work take place. Revised design submitted to Transport and Environment Committee. Appointment of contractor, Balfour Beatty.
2022
Work is scheduled to start on the week beginning 7 February for approximately 18 months.
Find out more about the CCWEL project.
Monitoring
Consultants, SYSTRA, will carry out monitoring to provide us with a thorough and comprehensive set of information to assess the overall impact of the project.
At various locations throughout the route before and after the scheme is implemented, we will assess
traffic levels
spend
user satisfaction
The information will help to
understand the outcomes from the project
quantify the scheme's benefits
demonstrate value for money
provide valuable insights into what can be expected from other, similar projects in the future.
SYSTRA has used a range of techniques and data sources to collect baseline data, including
on-street surveys
video surveys
manual and automatic counts
existing data
direct stakeholder engagement
direct assessment and site audits.
Read the full baseline monitoring report (PDF 11MB)
While many of the results are primarily of interest in terms of a comparison between before and after implementation surveys, some findings, including those from the household survey, are detailed below:
58% of respondents were aware of the scheme, with the most common source of knowledge being communications from the Council.
49% of respondents were supportive of the scheme, with 11% opposed, and 40% unsure.
Over 10% of respondents cycle at least 3-4 days a week, and 8% cycle as their main mode of commuting to work.
Less than 40% of respondents had access to a car or van. Though fewer still had access to a bicycle (28%).
Almost 60% of respondents walk 5 or more days per week, and around 8% of respondents cycle five or more days per week. Over 20% of respondents cycle at least once a fortnight.
The majority of respondents (60%) walk, cycle or use public transport for their journeys to work, with 31% driving.
Of those respondents who stated that they do cycle, 34% stated that they were not confident cycling, or were only confident cycling away from traffic.
Post construction monitoring will be carried out at several stages, including 6 months, 12 months and 24 months post completion.