Traffic / Pedestrian Management on Constitution Street by Coatfield Lane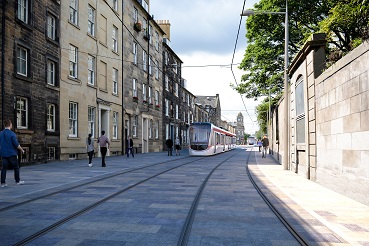 Changes to Traffic / Pedestrian Management on Constitution Street
The Project will be establishing localised sites on the existing footway between the entrance to South Leith Parish Church and Coatfield Lane the which will result in pedestrians being diverted on to the east side of Constitution Street.
Works are expected to commence from Thursday 2 June 2022 and will be ongoing for approximately eight weeks. Part of these works will include preparing the ground for the installation of the Overhead Line Equipment (OLE).
OLE is the overhead wires and supporting infrastructure that carries electricity to power the trams which can either consist of poles (similar to lampposts) or building fixings.
The location of the OLE poles will either be within the central lane of the tram track or within footpaths along the route, similar to the existing tram network.
OLE pole locations have been approved by the City of Edinburgh Council as part of the planning application for the Project. The locations of the poles are in accordance with design codes and standards which includes the Edinburgh Street Design Guidance and have been coordinated with the location of street lighting and required safety standards.
Additionally, OLE building fixings will be attached to the exterior of buildings along the route, and this element of the works are ongoing. Owners of properties where a building fixing is to be installed have been contacted directly to advise them of this.
What happens now
We anticipate the duration of these works will take up to 4 weeks with then a further 4 weeks to carry out footway works.
Outlined below is further detail on how the project team will undertake these works:
Excavations works will be carried out to clear the working space to allow the commencement of reinforcement concrete works. Excavation works are expected to take approximately one week.
On completion of the above reinforcement concrete works will commence.
Please note that depending upon the complexity of any encountered utilities, work may take longer to divert utilities and/or undertake further design checks.
The installation of any OLE pole will take no more than a day and will be carried out consecutively along the route with a date to be confirmed later on in the project.
Hard landscaping works on the footways will then take place.
Where an OLE is situated in the existing footway and/or affecting access/egress to properties, we will ensure that pedestrians diversions are in place and that access is maintained to properties throughout the duration of these works.
We will look to progress works as quickly as possible to ensure that minimal disruption is caused. To ensure optimum safety is maintained we ask that all pedestrians and cyclists' approach and operate with caution and care on approach to this area.