Full construction programme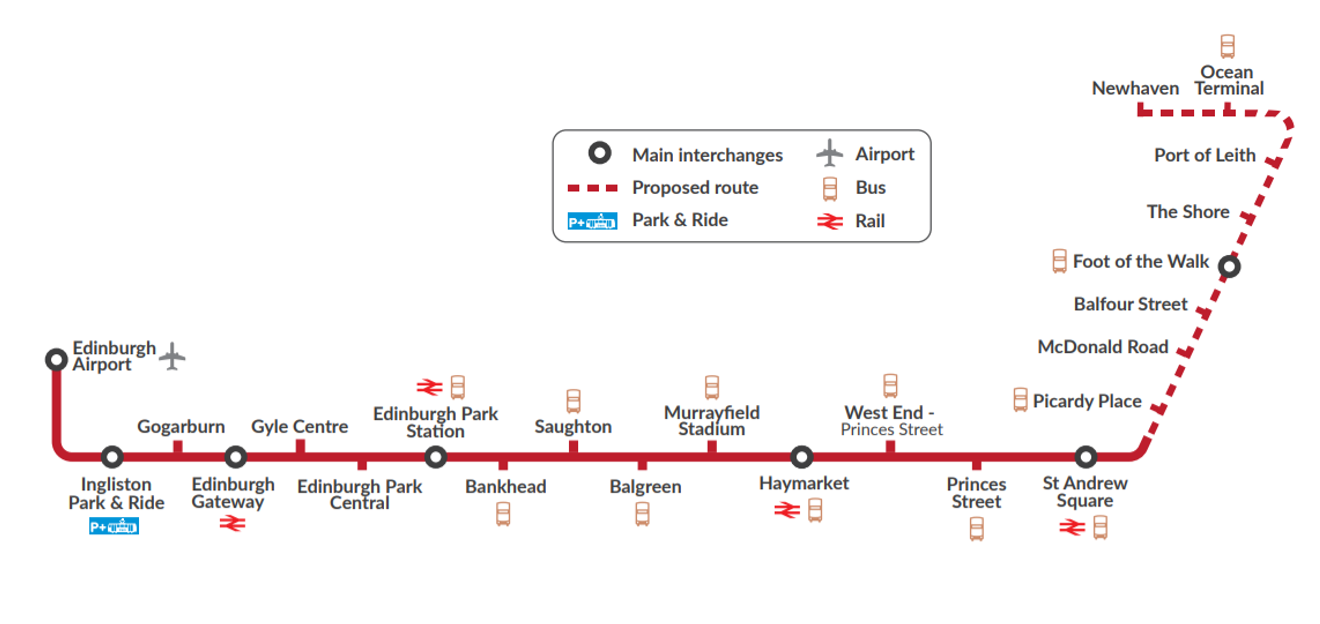 Detailed below is information on the phased construction of the project. As a result of the impact of COVID-19, nationwide material and labour shortages and unforseen utility issues, the programme has been reviewed and updated. Although the project has faced significant challenges, we continue to work towards a Spring 2023 open for service date.
View our construction phasing map (PDF).
Detailed below are reviewed timelines for each section.
Section
Previous Estimated Date
Completion Date

Newhaven - Melrose Drive

Winter 2021/22

Winter 2021/22

Melrose Drive

Resequencing of works has resulted in an earlier start date.

Winter 2021/22

Spring 2022 - Autumn 2022

Ocean Terminal - Melrose Drive

Works are not expected to take as long as originally forecast.

Summer 2022

Winter 2021/22 - Summer 2022

Ocean Terminal

Majority of the works outside Ocean Terminal will be completed before Christmas 21

Lighting, OLE poles and tram stop kit out will take place under localised work areas at a later date.

In addition, works at the Discovery Garden, including the installation of a new wall and signage for Ocean Terminal, will happen during 2022.

Autumn 2021
Winter 2021/22

Ocean Terminal - Rennie's Isle

Works completed earlier than expected.

Spring 2022

Winter 2021/22

Rennie's Isle - Tower Place

Change to construction methodology resulted in this section being constructed in 2 separate sections which has resulted in this delay.

Summer 2022

Winter 2021/22 -

Autumn 2022

Stevedore Place

Three sections:

Stevedore Place (house side)
Stevedore Place (flats side)

Lighting, OLE poles and tram works will take place under localised work areas at a later date.

Autumn 2021
Spring 2022

Casino Access Road / section in front of the old Genting Casino

Spring 2022

Summer 2022

Constitution Place - Baltic Street

All main construction and footway works were completed at the end of October 2021.

Lighting and OLE poles work will take place under localised work areas at a later date.

Attenuation pipes on Tower Street and reinstatement of setts (cobbles) are scheduled to be completed by Spring 2022.

Summer 2021

Autumn 2021

Baltic Street - Queen Charlotte Street

All footway works are scheduled to be completed by November 2021.

Tram stop works are ongoing

Further lighting, OLE poles and tram stop work will take place under localised work areas at a later date

The installation of attenuation pipes at Bernard Street have begun. These works and the reinstatement of Burns statute to take place Winter 2021/22.

Autumn 2021

Winter 2021/22

Queen Charlotte Street - Coatfield Lane

Resequencing of works in this area has resulted in a later start date.

Autumn 2022

Winter 2021/22 -

Autumn 2022

Coatfield Lane - Foot of the Walk (FoTW)

Coatfield Lane – Laurie Street will be opened before Christmas 2021.

Further works are required on the tram stop at FoTW and these are expected to be completed early 2022.

Local access from Laurie Street to Coatfield Lane will allow Queen Charlotte Street – Coatfield Lane section to start.

Footway works in this section are scheduled to be finished by Spring 2022.

Autumn 2021

Winter 2021/22

Foot of the Walk - Crown Street

No change to planned programme.

Summer 2022
Winter 2021/22 - Summer 2022

Crown Street - London Road

West side

The majority of footways works are scheduled to be completed by Christmas 2021. Any outstanding works is scheduled to be completed by January 2022.

East side

Footway works started on 30 October 2021 working down. These will be completed in sections, with the last scheduled for completion Summer 2022.

Elm Row

Works are scheduled to be completed by Spring 2022.

The current running lane will flip in sections to west side of street to accommodate east side works.

Car parking provision and logistic support will be maintained.

Winter 2021/22
Summer 2022

London Road - York Place

Works are being broken down into 3 sections:

October 2021

Establishment of site

Moving of utilities and tram infrastructure works to begin

January 2022

Works extend across the Broughton Street junction

May 2022

Removal of temporary tram stop at York Place and linking of York Place with Picardy Place.

Autumn 2022

Autumn 2021 -

Autumn 2022

Open for Service

The project continues to work towards a Spring 2023 open for service date. The project remains with the £207.3m that was agreed by City of Edinburgh Council in March 2019 as part of the final business case.

Spring 2023

Spring 2023