Trams to Newhaven construction to recommence from 5 January 2021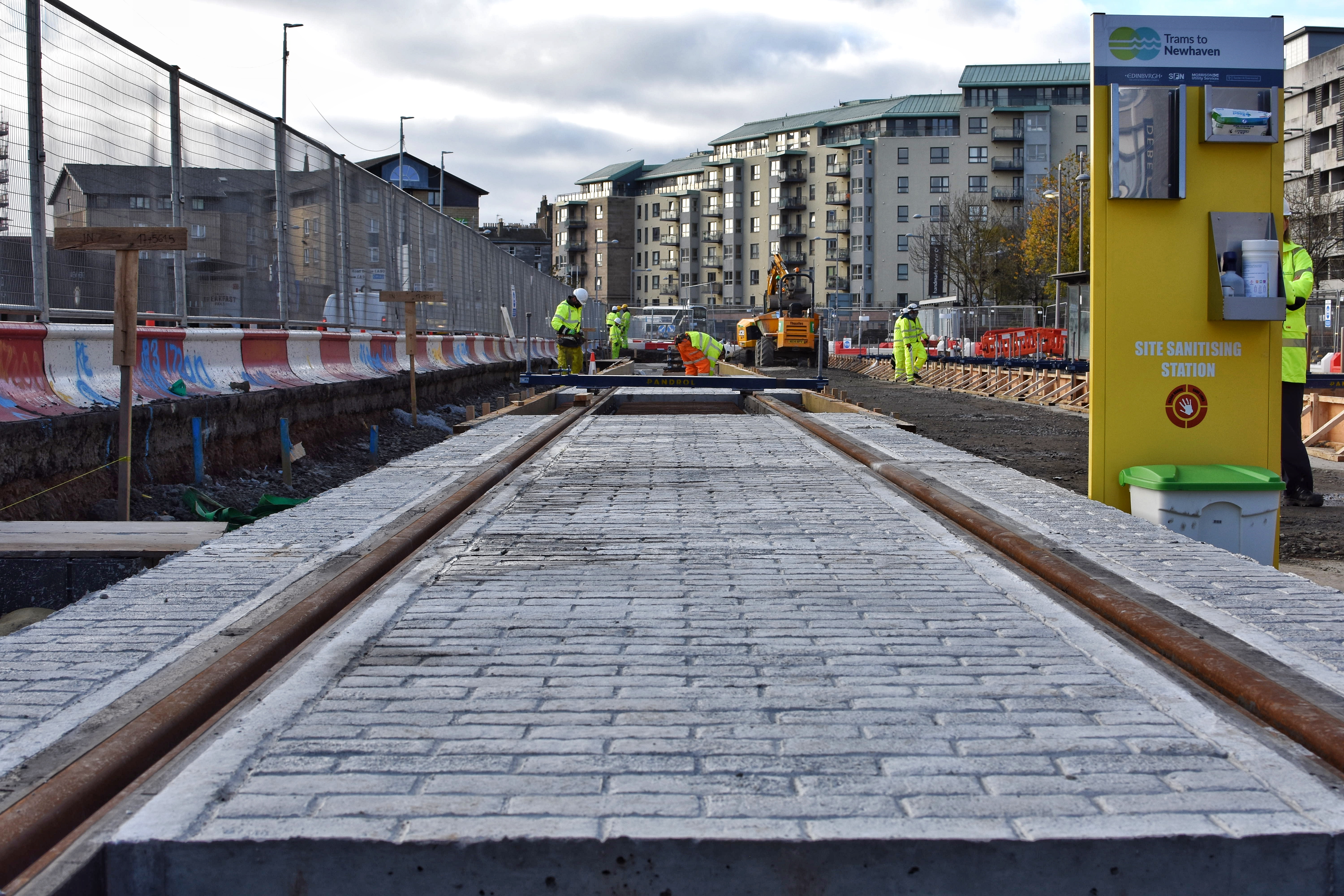 Construction restart following First Minister's statement on 4 January 2021.
Following the First Minister's announcement on 4 January 2021 regarding extra lockdown measures being put in place to curb the spread of COVID 19, the Scottish Government has confirmed that construction sites do not need to shut down. As a result, construction on the Trams to Newhaven project will recommence from 5 January 2021 as previously planned.
As the safety of our workforce and the public is of utmost importance, all works will be carried out through physical distancing and continued additional measures will include daily briefings, continuous on-site inspections and health and safety 'ambassadors'. During this period we will increase our presence of COVID ambassadors on site to ensure that our workforce remain safe, physically distanced and comply with our COVID risk assessment. Our COVID ambassadors will also monitor the footways and public interface with the site to make sure the surrounding area can be accessed in a COVID secure way. The numbers of workers on-site will be kept to a minimum and a large proportion of the project office staff will continue to work from home. While physical distancing will be a key principle of construction working, workers will also have access to personal protection equipment (PPE).
The logistic hubs at the Mitchell Street, Foot of the Walk, Dalmeny Street, Albert Street and Montgomery Street will continue to support local businesses with deliveries and despatches.
WHAT MEASURES WILL BE PUT IN PLACE TO PROTECT OUR WORKFORCE AND THE PUBLIC?
We are committed to keeping our teams and the public safe during these works and we will continue to follow all Scottish Government guidance on measures to reduce the risk of spreading the virus. Actions will include:
The project is holding two full days of safety briefings on the 4

th

and 5

th

January for its workforce. Part of these briefings will be to reinforce the COVID 19 measures that are in place. These will be followed up with regular briefings to ensure the message is continually communicated and reiterate the importance of respitory and hand hygiene, and physical distancing.
Work will be carried out in compliance with Scottish Government guidance however workers will also be provided with additional Personal Protective Equipment.
All workers will have their temperature taken on attending the workplace.
All sites will have infection control station
The project site office has been remodelled to include measures for physical distancing. Those who can work from home will continue to do so. The daily cleaning regime will continue to be intensified
The site will have COVID ambassadors who will monitor the measures on site. These ambassadors have been increased to monitor COVID 19 safety measure compliance on the workforce
WHAT MEASURES WILL BE IN PLACE TO ENSURE THERE IS PHYSICAL DISTANCING ON THE STREETS BESIDE THE WORKSITES?
We continue to review all sites and have widened the footways wherever it was safe to do so. Unfortunately, several sections of the footway do not allow us to widen them any more as there are open excavations or uneven surfacing. To combat this we have installed a suggested one-way system on several sections of Constitution Street to facilitate physical distancing around our sites. We are continuing to review our working areas and liaising with council colleagues but in the meantime, in areas, where space is restricted, as in other parts of the city, we would ask that people consider other pedestrians and give them space, stay alert especially if you are using your phone or wearing headphones, and keep left if possible and pass on the right.