Scottish Apprenticeship Week 2023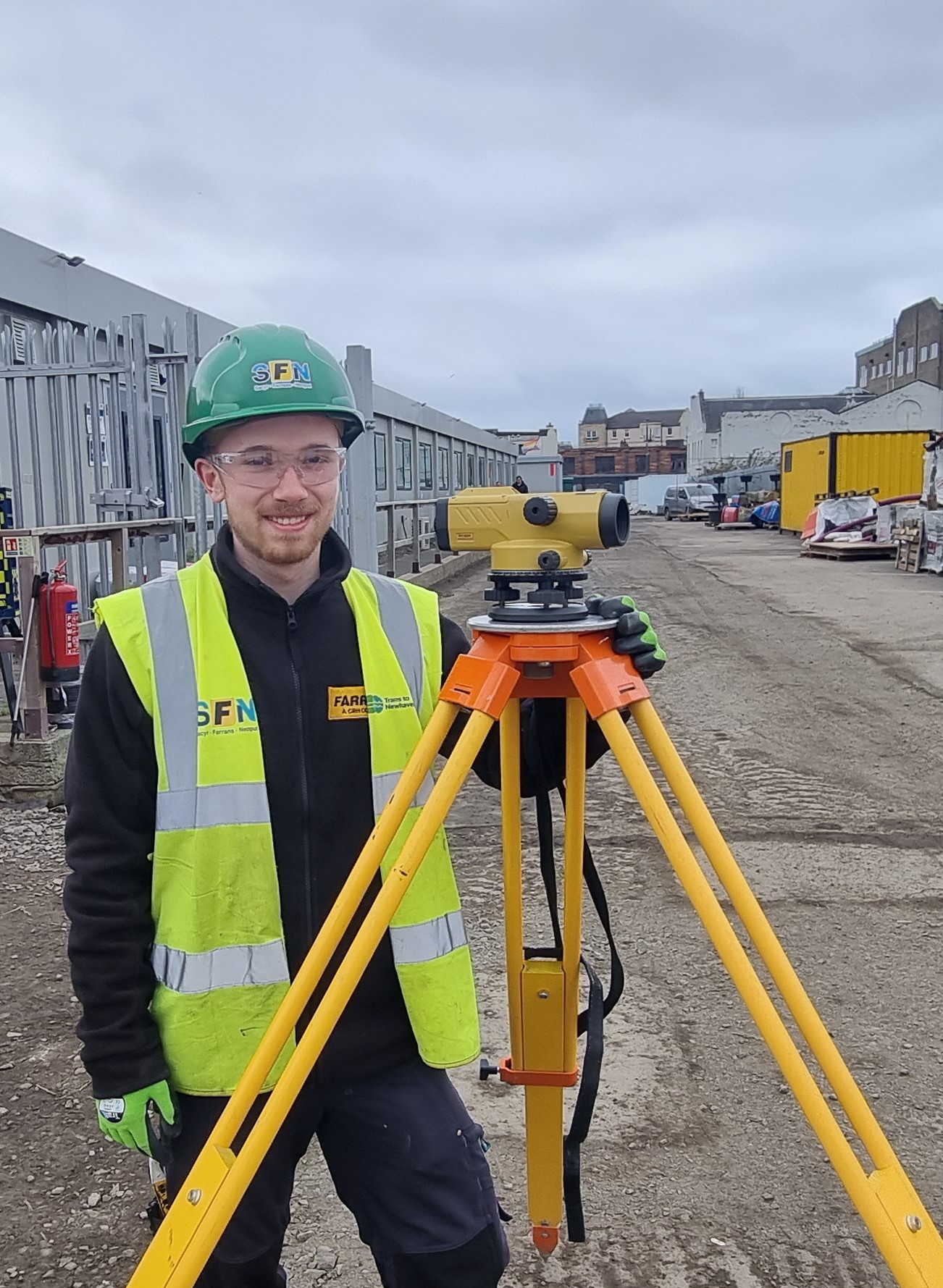 Scottish Apprenticeship Week shows the benefits work-based learning brings to people, businesses and the Scottish economy.
The campaign will help demonstrate that apprenticeships support sustained employment, upskilling and a productive economy.
Here we learn more about Alastair's journey from the classroom to site-based experiences.
Alistair's Story
As a part of my Graduate Apprenticeship (GA) degree in Civil Engineering at Heriot-Watt University I'm an apprentice engineer with Farrans Construction, situated on the Trams to Newhaven project in Leith, Edinburgh.
In 2019/2020, during 5th / 6th Year of High School at Larbert High School in Falkirk, I enrolled on a Foundation Apprenticeship (FA) in Electrical and Mechanical engineering.
During this time, I carried out numerous Work Placements opportunities to explore disciplines that I was interested in. This helped me to select civil engineering and explore further educational opportunities.
In September 2021, I secured a Graduate Apprenticeship (GA) opportunity with Farrans Construction, studying at Heriot-Watt University.
Work Based Learning
My experience so far as an apprentice and working on the Trams to Newhaven Project with Farrans and Joint Venture Partners, Sacyr UK / Neopul has been positive.
I have been supplied with the necessary training and attention to ensure that I feel confident to complete any tasks that are given to me.
It is also evident through working alongside others, that Farrans have put a lot of time into me and a look forward to paying this back with the experiences I have gained.
Through the guidance and support from my mentor, Neil Fullerton, and site colleagues this has built up my knowledge, skills and competence to become an engineer of the highest possible standard.
I enjoy the constant site experience that I have with my university work. The experience has been immensely beneficial, and I believe will be extremely relevant to my future within the industry allowing me to become a well-rounded engineer at the end of my apprenticeship. "
Alistair's Top Tip for transitioning from education to the world of work:
"If I could give any young person advice about transitioning in to the world of work, it would be to speak to those who can help, guide and assist in helping you to explore as many options as possible. This really helped to influence and transition in to the world of work and develop future career aspirations"
Laurent (Heriot Watt - Programme Director for Civil Engineering):
"Alastair has been very consistent in his academic performance, obtaining good grades and being dedicated to his studies – as well as being a real asset to Farrans. This embodies qualities that both universities and companies strive for when recruiting graduate apprentices".
Neil Fullerton, Construction Manager, Farrans Construction:
We recognise the importance of investing, involving, and inspiring the youth of today, aspiring young engineers with an opportunity to learn from best practice within the industry.
An apprenticeship from universities offers a great opportunity for learners to translate theory into practical experience, whilst highlighting and providing exposure to a wide range of various disciplines within the industry. "