Leith Walk enabling works to start on 18 November 2019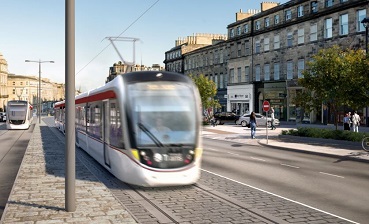 Information supplied to businesses relating to the enabling works commencing on Leith Walk on 18 November 2019
Notification of start of enabling works
Enabling works to take trams to Newhaven will start on Leith Walk on 18 November 2019.
Work will begin in two sections on Leith Walk:
1. Lorne Street to Crown Place
2. Pilrig Street to Brunswick Road
SFN and MUS' roles will involve the creation of a city bound running lane from the Foot of the Walk to London Road which will require the removal of certain build outs and the reduction of the footway at several locations.
Once these two sections are completed, similar works will take place between:
1. Lorne Street to Pilrig Street
2. Brunswick Road to London Road
All enabling works are scheduled to be completed early 2020 and will facilitate the main tram construction works which will start in Spring 2020.
Traffic Management
Traffic management arrangements have been approved jointly with members of the city's Traffic Management Review Panel (TMRP), which includes Lothian Buses and the emergency services, and will be in place from the morning of 18 November 2019. Throughout the construction period, one lane will be open in both directions with occasional closure of side streets to facilitate the works. Bus services will be unaffected, other than some bus stops being moved a short distance in agreement with Lothian Buses.
Diversion routes and advanced warning signs will be put in place in the vicinity for information and
direction. These will be in place from the evening of 18 November and the project will carefully
monitor how the traffic management is working during these enabling works.
During these works, communal bins that are currently situated on Leith Walk in the affected
sections will be moved to the nearest side street. The regularity of uplifts will be monitored to
ensure the area is kept clean and tidy.
Can you please inform your trade waste that these works will impact on where they will be able to
uplift your trade waste.
Parking and loading
In order to support public transport provision during enabling works there will be no on-street
parking and loading within each traffic management section.
Constitution Street Works
The first phase of work to take trams to Newhaven will start on Constitution Street on 18 November 2019,
with traffic management in place from the evening of 15 November.
SFN and MUS' roles will involve excavation of the road to allow utility diversions, tracklaying,
installation of tram infrastructure, public realm improvements, and heritage and archaeology
workstreams. Further information can be found on the project website.
Considerate Contractor Scheme

SFN and MUS both follow the principles of the Considerate Constructors Scheme, which requires
a firm focus on outstanding management, efficiency, awareness of local environmental issues,
and a genuine consideration for neighbours and the community.
During the time that the above works are being undertaken, all efforts will be made to minimise
disruption and inconvenience to residents and businesses as much as possible. Further details
can be found www.ccsscheme.org.uk
For further information please visit www.tramstonewhaven.co.uk. Alternatively, you can contact us via
email at [email protected] or by phone on 0131 322 1122.