Ocean Terminal - Ocean Drive
Work on building the tram route in the Ocean Terminal area (Ocean Drive) began Spring 2020. See estimated timelines of when work will be finished in this area.
This area is separated into smaller sections of work. These are:
Ocean Terminal to Rennie's Isle
Rennie's Isle to Tower Place
Stevedore Place
Casino access road area
Rennie's Isle to Tower Place
The next phase of construction works on the Trams to Newhaven project began on Ocean Drive (Rennie's Isle to Tower Place) in late February 2022. As part of this site establishment Tower Bridge will be closed to pedestrians to allow modifications to the existing structure. These works are scheduled to be completed in Autumn 2022. A pedestrian diversion route will be maintained via the Victoria Swing Bridge. Read more about these works.
View the Victoria Swing Bridge pedestrian diversion: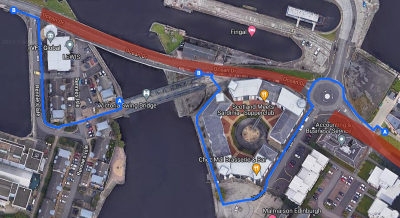 Stevedore Place
To progress with associated tram works in the Ocean Drive/Stevedore Place area further adjustments to the traffic management will be made from w/c 25 April 2022. Pedestrian acces will be maintained with diversions in place.
Traffic Management
Pedestrian access will be maintained at all times with parking and loading on Ocean Drive suspended throughout the duration of the works. Vehicle access to Tower Place, Forth Ports, Stevedore Place, Constitution Place and Tower Street Industrial Estate will be via Commercial Street / Bernard Street, and onto Constitution Street. Vehicle access to the Cala Development and the entrance to Rennie's Isle from the west is provided via Ocean Terminal on Ocean Drive. The project will assess the traffic management arrangement throughout the construction period and make amends if required.
Pedestrian Crossings

Downloads: