Ocean Terminal - Ocean Drive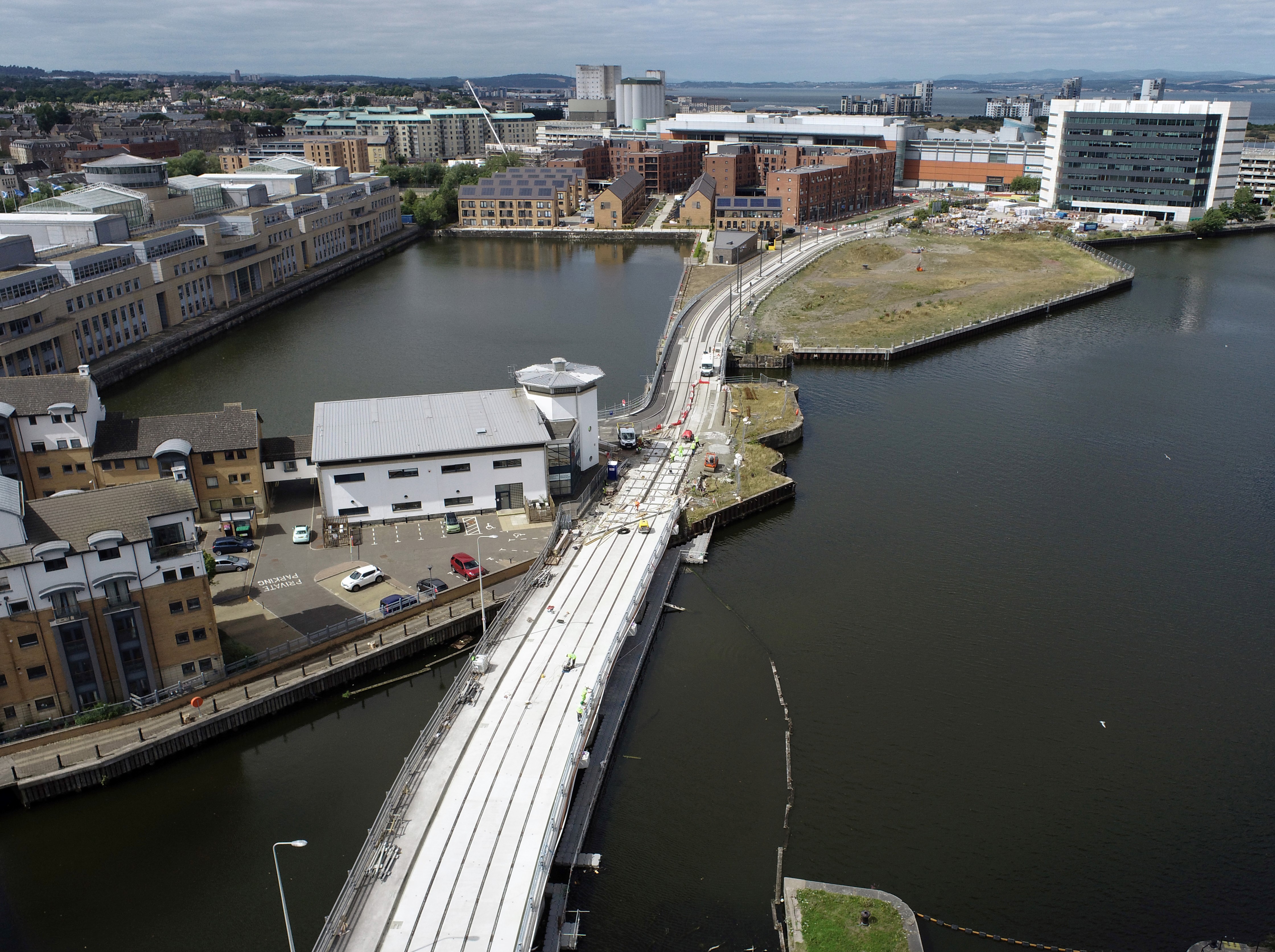 Work on building the tram route in the Ocean Terminal area (Ocean Drive) began Spring 2020. See estimated timelines of when work will be finished in this area.
This area is separated into smaller sections of work. These are:
Ocean Terminal to Rennie's Isle
Rennie's Isle to Tower Place
Stevedore Place
Casino access road area
Works Update
Ocean Terminal
Hard landscaping continues on the eastern carriageway heading south towards the Holiday Inn. Fence lines have been removed from the north side of Ocean Drive following completion of main infrastructure works. JC Decaux is currently installing bus shelters on both east and west sides of the street. Permanent street lighting outside Ocean Terminal has also been installed.
From Monday 14 November traffic management will change at Ocean Terminal south roundabout. Northbound traffic will move to the carriageway on the east and cross back to the west located near the Ocean Terminal Red Car park entrance.
From 30 November 2022, there will be further changes to Ocean Terminal south roundabout/Melrose Drive. Arrangements will be managed with 4-way controlled temporary traffic lights. Traffic management plans can be found in the Downloads section.
Please note that from 29 November to 1 December we will be working additional hours overnight in the Ocean Terminal/Melrose Drive area. This will require restricted vehicle access (managed by marshalls) and a footpath closure. Read more about the overnight works here.
Rennie's Isle to Tower Place
The next phase of construction works on the Trams to Newhaven project began on Ocean Drive (Rennie's Isle to Tower Place) in late February 2022. As part of this site establishment, Tower Bridge will be closed to pedestrians to allow modifications to the existing structure. These works are scheduled to be completed in Autumn 2022. A pedestrian diversion route will be maintained via the Victoria Swing Bridge. Read more about these works.
View the Victoria Swing Bridge pedestrian diversion: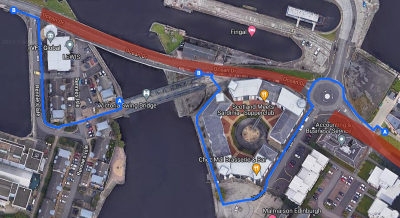 The installation of OLE poles in this section continues. Hard landscaping works have now commenced. On completion, surfacing works will take place.
Stevedore Place
Track and tram stop works are complete. Surfacing works will be ongoing within the area.
There is a requirement to carry out some remedial works on a short section of track slab at the west end of Stevedore Place. These works are now scheduled to from 25 November 2022. Works to carry out the reinstatement of the west entrance to Stevedore Place are scheduled to start shortly.
In order to accommodate the progression of project works, from 4 November 2022 there will be further adjustments to the traffic management arrangements at Stevedore Place with traffic moving to the south side of Ocean Drive. Traffic management plans can be found in the Downloads section.
Adjustments to pedestrian routes were made from 26 September and are expected to remain in place until October / November 2022. These involve the closure of the north footpath at Ocean Drive. Localised pedestrian access for Stevedore Place residents, as well as vehicular access to properties, remains in place. Main diversion for pedestrians is via Tower Street / The Shore / Tower Place. Read more in our website article and view the pedestrian diversion routes.
Casino Access Road
Surfacing works between the casino building and the entrance to Tower Street Industrial Estate have been postponed due to resourcing issues. Further updates will be issued in due course.
Traffic Management
Pedestrian access will be maintained at all times with parking and loading on Ocean Drive suspended throughout the duration of the works. Vehicle access to Tower Place, Forth Ports, Stevedore Place, Constitution Place and Tower Street Industrial Estate will be via Commercial Street / Bernard Street, and onto Constitution Street. Vehicle access to the Cala Development and the entrance to Rennie's Isle from the west is provided via Ocean Terminal on Ocean Drive. The project will assess the traffic management arrangement throughout the construction period and make amends if required.
Downloads: