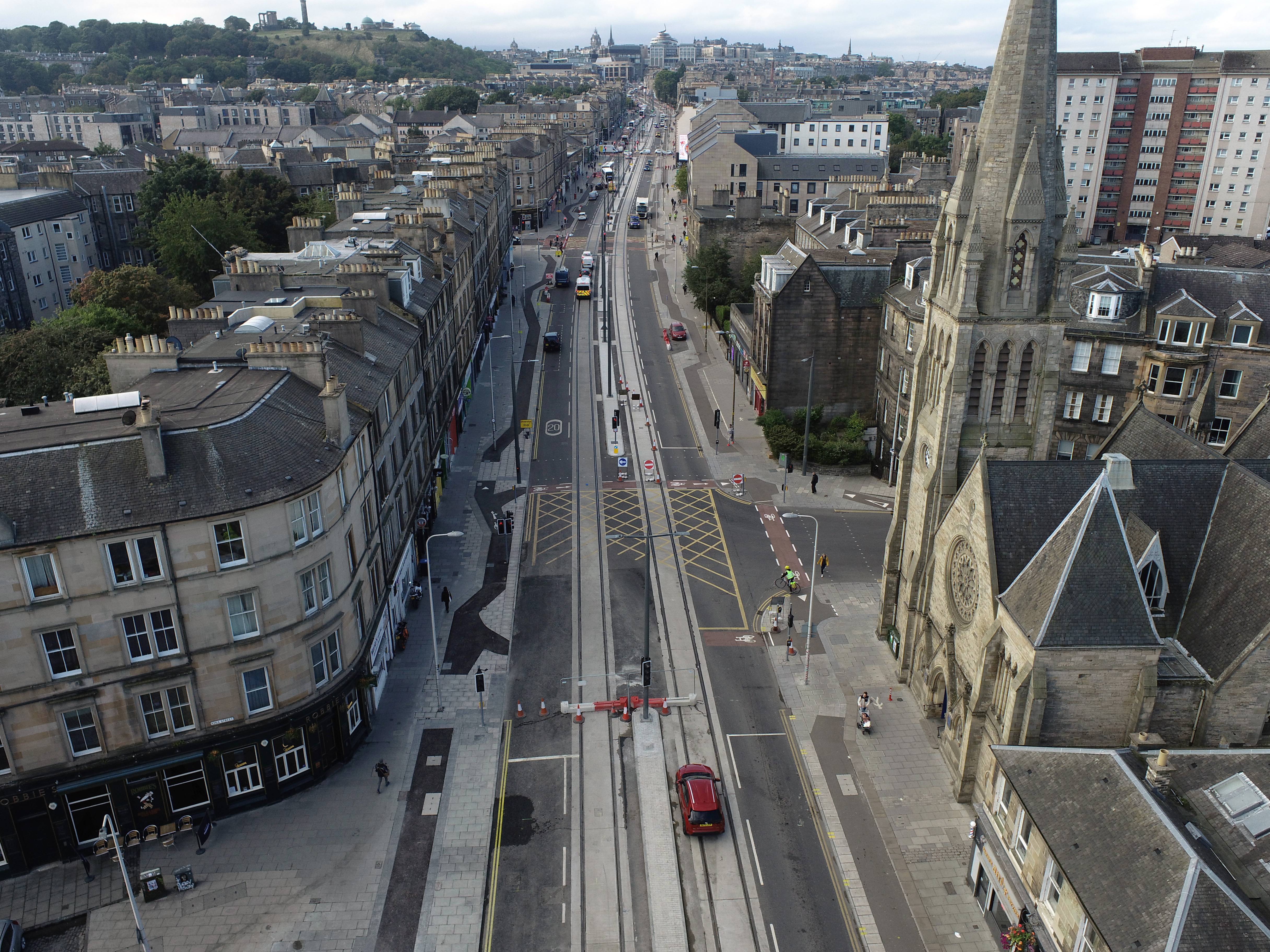 Work on building the tram route through Leith Walk began Summer 2020. See estimated timelines of when work will be finished in this area.
Works Update
Main construction works are complete between Annandale/Montgomery Street and Pilrig Street and this section was reopened to two-way traffic on 18 July 2022. P
With street lighting having been incorporated into the OLE poles in the central reservation, the project is now disconnecting and removing the existing lampposts along Leith Walk. These works are progressing northbound.

Main construction is complete between Pilrig Street and Jameson Place and the majority of heras fencing has been removed.
Two-way traffic is scheduled to be in place for the full length of Leith Walk by w/c 19 December 2022.
Traffic Management
Works in the Pilrig Street to Foot of the Walk section are ongoing and this section is closed to all northbound traffic.
The below streets are closed at their junctions with Leith Walk:
The below streets are open at their junction with Leith Walk:
Balfour Street - vehicles are able to exit Balfour Street and turn right heading south
Dalmeny Street - vehicles are able to turn left into Dalmeny Street from Leith Walk and left out of Dalmeny Street onto Leith Walk.
Brunswick Road - remains one-way but direction has changed to eastbound towards Easter Road. Please note that the left turn off Leith Walk onto Brunswick Road is not permitted; traffic coming from McDonald Road can continue straight onto Brunswick Road. Read further updates about Brunswick Road.
Diversion routes and advanced warning signage will be erected in the area.
Please note, the carriageway on the west side from Pilrig Street to Balfour Street is closed to vehicles. Access to Arthur Street is via Balfour Street or Pilrig Street.

Cycling
The newly constructed cycle lanes on the east (southbound) and west side (northbound) of Leith Walk will remain closed as there will be ongoing localised works. This will involve small worksites with localised diversions in place. Access to properties will be maintained. See our Cycling Frequently Asked Questions.
Localised diversion routes remain in place until completion. See the cycle diversion routes
Lothian Buses
The project has consulted with Lothian Buses on the proposed traffic management to allow the development of their bus diversion routes. Details of bus diversions are available on the Lothian Buses website.
At Elm Row a temporary bus stop layout has been installed with pedestrian access being maintained via Montgomery Street, Annandale Junction and Elm Row.
Logistic Hubs
Logistics hubs to support Leith Walk businesses are in place to help with deliveries and dispatches. Help will also be at hand at these logistics hubs for residents expecting large deliveries such as appliances or furniture. You can find them at:
Montgomery Street
Jane Street
The Logistics Hubs at Albert Street and Dalmeny Streer have been removed in response to a reduction in demand and to create more space for vehicles to load / unload. Logistics officers from our other hubs on Leith Walk continue to support businesses.
Parking and Loading
The Traffic Regulation Order has been in place in the Annandale/Montgomery to Pilrig Street section since its reopening on 18 July 2022. Please note that the Traffic Regulation Order is in force from the above date. We would like to remind all road users that there is no stopping or waiting on the new carriage way, including tram tracks that have been installed. Loading and parking provisions are available and can be viewed on our Final Landscaping Designs (PDF).
Temporary loading/unloading provision is located on the central reservation on the east side of Leith Walk between Dalmeny and Iona Street (opposite La Favorita) for businesses in the area.
Pedestrian Crossings
Downloads