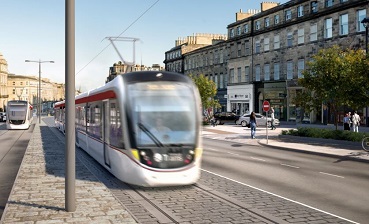 Construction work on the project commenced in mid-November 2019 and will be followed by a period of testing. This will require the closure of some streets and reduced traffic flows on others. Below you can find out more information on
road closures
diversion routes
displaced bus stops
waste collections
pedestrian footpath closures
cycle lane closures
Our approach
We are constructing the line using a phased 'one-dig' approach. This means we will not reopen a worksite until all utility and infrastructure works have been completed. By following this approach, the level of disruption to you will be reduced. For example, if your bus stop is displaced, the location of your new bus stop will remain in the same place for the duration of the works.
Additionally, large worksites allow us to be more efficient with our teams on the ground. Should an issue arise where work cannot take place in a specific area, we will have the flexibility to deploy them elsewhere in the worksite. This allows us to avoid unnecessary delays and successfully deliver the project on time.
Our traffic management approach has been jointly approved by members of the city's Traffic Management Review Panel, including Lothian Buses and the emergency services. Emergency access to the site is maintained at all times in the event access is required.
We will always ensure that you are kept aware of any planned works in advance of commencement. This will give you time to modify your normal journey and allow you to get to work, school or somewhere else on time. Our normal working hours are Monday to Friday, 7am to 7pm, and Saturday, 8am to 1pm.
Construction programme
Constitution Street
Work on building the tram route through Constitution Street began on 18 November 2019.
Work began in two sections:
Foot of the Walk to Coatfield Lane
Queen Charlotte Street to Constitution Place
SFN and MUS' roles involve
excavation of the road to allow utility diversions
tracklaying
installation of tram infrastructure
public realm improvements
heritage and archaeology works.
This includes the Robert Burns statue, situated on Baltic Street, which has now been removed is undergoing restoration works, before being returned to a new and improved public complete.
In addition, the South Leith Parish Church wall is currently being taken down and re-built. The memorials on the inner face of the wall will also be removed and protected so that they can be reinstated when the wall is re-built.
Further work is scheduled to take place between:
Coatfield Lane and Queen Charlotte Street
Constitution Place and Tower Place
Download our construction map overview (PDF)
Traffic management
Traffic management arrangements are now in place. Diversion routes and advanced warning signage have been erected in to help people move around the area with ease.
Throughout this construction period, access is being maintained to Kirkgate House from Laurie Street and to Coatfield Lane from Queen Charlotte Street. Bernard Street to Baltic Street, Mitchell Street to Maritime Lane and Queen Charlotte Street road crossings remain open. All other sections of Constitution Street are closed to vehicles.
The project will carefully monitor how the traffic management is working during the construction period.
Download the traffic management plan for Foot of the Walk to Coatfield Lane (PDF).
View the text version of the traffic management plan for Foot of the Walk to Coatfield Lane.
Constitution Street parking
To enable pedestrian access given the narrow layout of Constitution Street and because the road is closed to traffic there will be no on-street parking during construction.
Please be aware that the Council recently undertook consultation on the introduction of a Controlled Parking Zone (CPZ) in the area.
Tower Street and Shore parking
On-street parking on the north side of Tower Street is restricted until Summer 2022. The traffic management arrangements for the south side of Tower Street will be maintained and any restrictions will be notified by placing of no waiting cones 24 hours in advance. On-street parking on the west side of the Shore from Bernard Street to Tower Street is also restricted. These measures are necessary in order to maintain access to residents and businesses to Tower Street via the Shore.
Bike racks
We are required to remove the bike racks between Maritime Street and Baltic Street as part of the Constitution Street works. We apologies for any inconvenience caused.
Constitution Street planters
The two large blue planters that were situated on Constitution Street have been moved.
The planters were originally put in place as part of the Leith programme and have been moved temporarily to an off-street area at the bottom of Constitution Street. They will be stored and maintained at this location until construction on Constitution Street is finished Spring 2021. At this point they will be returned to their original positions.
Construction site
Fencing has been erected in order to establish the construction site and to allow works to take place.
Waste collections
Communal bins that were situated on Constitution Street have been moved to the nearest side street. The regularity of uplifts will be monitored to ensure the area is kept clean and tidy. If you require a bulk uplift, please contact the Council's waste service.
Leith Walk enabling works
The Leith Walk enabling works involve the removal of parking and loading bays on Leith Walk on the city bound side of the road. During the works, traffic will continue to flow in both directions and bus stops will be maintained on the street, although they may need to be moved a short distance.
The enabling works are required to provide a city bound running lane from Foot of the Walk to London Road which remains open for the duration of the main construction works. The enabling works involves the removal of certain build outs and the reduction of the footway at some locations. All enabling works are scheduled to be completed early 2020 and will facilitate the main tram construction works which will start on 28 March 2020.
Traffic management
Throughout the enabling period, one lane will be open in each direction with occasional closure of some side streets. Bus services remain unaffected, other than some bus stops being moved a short distance in agreement with Lothian Buses.
Diversion routes and advanced warning signs are in place for information and wayfinding. The project continues to carefully monitor how the traffic management is working.
Communal bins that are currently situated on Leith Walk in the affected sections have been moved to the nearest side street. The regularity of uplifts will be monitored to ensure the area is kept clean and tidy.
Parking and loading
To support public transport provision during enabling works there is no on-street parking and loading available within each traffic management section but we will endeavour to be flexible and make space available where possible.
If we do need to move your bus stop, we will inform you in advance via on street notices. Information will also be available on the Lothian Buses website as well as via the Transport of Edinburgh app. Bus timetables will remain as they are during the enabling works.
Cycling infrastructure
The traffic managements plans have been agreed in advance as part of the Traffic Management Review Panel process, which included input from cycling and active travel groups, and this unfortunately requires the temporary closure of some cycling infrastructure in this section of works.
The works will benefit the cycling community in the longer term as they are vital to creating the south (city) bound running lane that is needed for the larger section from London Road to Crown Place. This will allow for guaranteed cycling infrastructure to be accommodated in the longer duration temporary traffic management scheme from Spring 2020 which will create a much safer space for cyclists during the main works.
Leith Walk planters
The 15 planters that were situated on Leith Walk as part of the previous Leith programme have been moved to the Easter Road / Duke Street / Lochend Road / Vanburgh Place junction.
Leith Walk main works
The Leith Walk main works has an estimated completion date of Summer 2021. During construction, the road will be reduced to one lane heading city bound.
Download the Leith Walk traffic management plans (PDFs)
Download narrative traffic management plan for London Road to Crown Place (PDF) or view the narrative traffic management plan for London Road to Crown Place.
Lindsay Road / Melrose Drive
Works in the Newhaven area started on 6 March 2020.
Download the Newhaven to Melrose Drive traffic plan (PDFs)
Ocean Terminal (Ocean Drive)
Works in the Waterfront area started on 13 March 2020 outside Ocean Terminal.
Download the Ocean Terminal traffic management plan (PDF)
Displaced bus stops
For real-time information once the work commences you can check the Lothian Buses website or download the Transport for Edinburgh app.
Waste collection
For those who live on streets where works will take place, it is likely that bin locations and pick up points will move to the nearest side street.
Updated permanent designs
We have updated the permanent design drawings to take consideration of feedback received from the community. These designs, however, should be viewed as indicitive as we may need to make some minor changes as we proceed through the project. Updates will be posted here and communicated to you via email. Should you wish to be kept up to date, you can sign up to our mailing list.
Download Trams to Newhaven permanent designs (PDF)
Considerate Contractor scheme
Sacyr Farrans Neopul and and Morrison Utility Services both follow the principles of the Considerate Constructors scheme, which requires a firm focus on outstanding management, efficiency, awareness of local environmental issues, and a genuine consideration for neighbours and the community.
During the time that the above works are being undertaken, all efforts will be made to minimise disruption and inconvenience to residents and businesses as much as possible. Further details can be found on the Considerate Contractor scheme website.