Work on building the tram route through Constitution Street began in autumn 2019.
Constitution Street fully opened to vehicles from Coatfiled Lane to Ocean Drive/Tower Place on 12 November 2022.
Updates
The project's Traffic Regulation Order (TRO) came into effect on 13 March 2023. Parking enforcement is now operational.
Vehicles can access Constitution Street in both directions as per the TRO. Through route to Ocean Terminal via Ocean Drive has also been reinstated. Please note that the section between Foot of the Walk and Coatfield Lane is closed to traffic as part of the Final Designs.The ban on the right-hand turn from Constitution Street to Bernard / Baltic Street has also been reintroduced.
Public realm, drainage and ducting works on Bernard / Baltic Street began w/c 6 March 2023 for an estimated 10 weeks. The works will be progressing into existing footways over the coming weeks. Pedestrian diversions are in place with access to properties and businesses maintained at all times.

Archaeology and public realm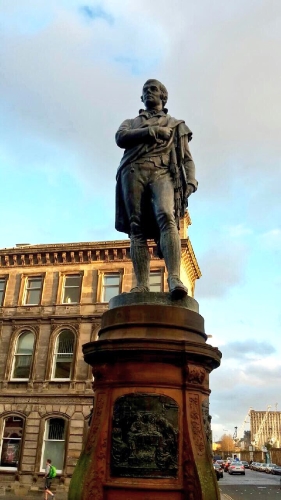 In January 2022 the restored Robert Burns statue returned to its original location on Baltic Street. Read more about the reinstatement. During the removal of the statue in 2019 we discovered a hidden time capsule in the base from when it was originally erected in 1898. In December 2021 we reinstated this time capsule along with a new one from 2021 for future generations to discover. Read more about the time capsule.
To find out more about the archaeological excavations at South Leith Parish Church, click here.