Our Community Engagement So Far
Our Community Engagements So Far
Over the past four years, Trams to Newhaven has run a Community Benefits programme engaging with local schools, charities and other social enterprises to maximise the social, economic and environmental benefits of the project.
Our Community Benefits programme has now ended. Here are some of our community engagements over the course of the project.
As part of the community benefits scheme, pupils from Pilrig Park, St Mary's R.C. Primary School, Leith Primary School, Victoria Primary School and Broughton Primary School all received a special visit from Santa and his elves. A Trams to Newhaven sleigh/pickup hybrid went dashing through the streets of Leith parking up in each of the school's playgrounds. In keeping with Government guidelines, individual classes were invited outside to see Santa, spreading some much-needed festive cheer around the local area. Over 1500 selection boxes were distributed between the schools involved, all donated from the project's partners.
The visits come after all schools in the area were invited to help decorate the project work site with Christmas themed posters created by local school children. These were be displayed on large boards placed on near the site close to their school.
Further to our Christmas schools campaign, we donated food and toys to Shore Avocado, working on behalf of the Hibernian Football Club Girls Academy collating items for Leith Food Bank. Items were also donated items to Streetwork at Simon Community Scotland and food boxes donated to Leith Gives.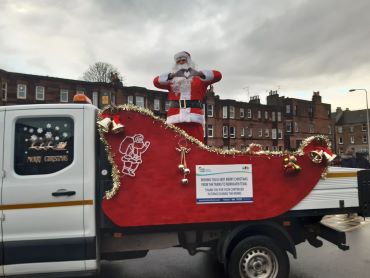 ---
We have installed a new pedestrian access ramp in the grounds of South Leith Parish Church. This was greatly received by the church's Rev Iain May who said:
Many members of the church and local community have praised the new ramp and the access it has provided for those with mobility difficulties. I know some may say 'it is only a ramp' but I can assure you, it had made the life of many in Leith just that wee bit easier.

---
Earlier this year, we ran a scavenger hunt for local children, young people and families over the school break. We installed nine Easter community engagement boards throughout the route of the project and asked participants to visit the boards and answer the questions on each of the boards. Every participant recieved a prize from the project. Over 150 people got involved in the campaign, with over 350 Easter surprises going to the participants of the hunt and local community groups Citadel, Hibs in the Community, Hibernian Girls Academy and Streetwork.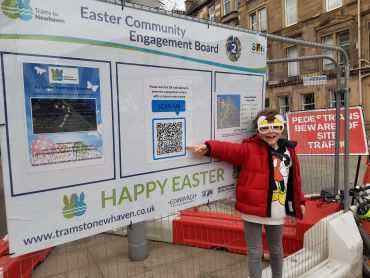 ---
As part of our community benefits work stream, our contractors SFN were delighted to visit Primary 2 & 3 pupils at Victoria Primary School to talk about all things Trams to Newhaven, Health & Safety in Construction, and sustainability within the industry.
SFN site teams have been enthusiastic about getting involved in this mini project by recycling unwanted materials from site and creating amazing bug hotels for local schools. It was great to finally visit pupils from Victoria Primary School and discuss key topics about the construction industry, the project, and environmental aspects. We hope that these bug hotels will facilitate a whole range of key learning opportunities.
We have challenged pupils to name and create a design for their bug hotels with the winning class being in with a chance of earning learning resources to further assist with their outdoor learning activities.
If you are a local school in the area and are interested in speaking to us, please get in touch for further information.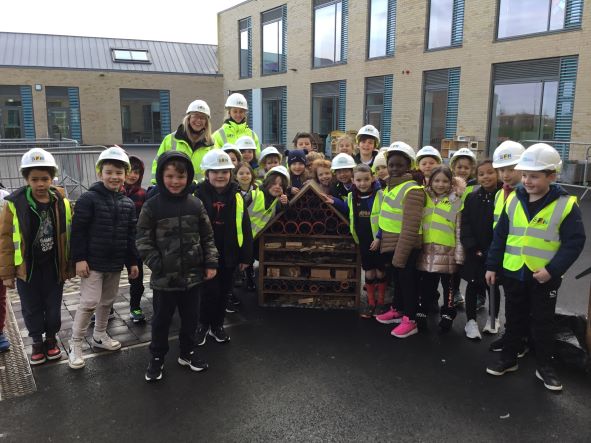 ---
During the week of 6 June 2022 Morrison Energy Service and GUARD Archaeology Ltd hosted an Archaeology Road Show for the local primary schools on the route.
The team took along some of the finds discovered on the project and engaged in activities to allow the pupils to gain an insight into the world of Archaeology. Activities included Show and tell, excavation works, bone identification and grid drawing.
The pupils were left with a quiz which on completion will be submitted to Archaeology Scotland for the Heritage Hero's Bronze Award. You can find out more about Archaeology Scotland and the awards here.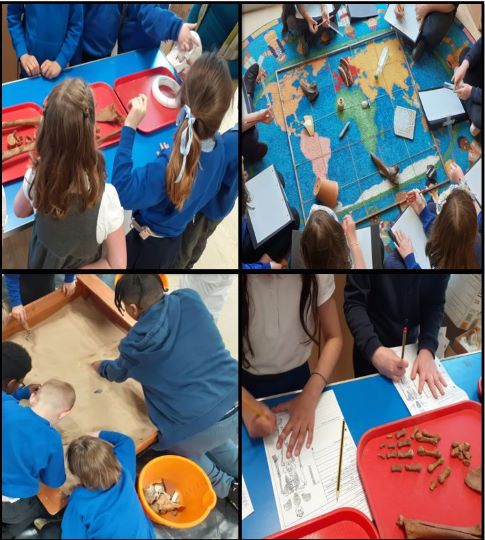 ---
As part of the project's community benefit workstream, our contractors SFN, alongside their subcontractors carried out an Easter Egg collection for local community organisations in Leith.
They collected around 400 easter eggs and donated to the following organisations:
CLASP aims to provide a high-quality child-led play setting, where children are offered play opportunities in a fun and stimulating environment and to provide affordable childcare for the parents of Leith.
Steps to Hope SCIO is a non-profit charity dedicated to caring for the homeless and those suffering with addiction.
The Citadel Youth Centre offers local children & young people aged 6-18 years a varied programme of play, activities and educational opportunities designed to encourage, develop & reinforce their skills and self-image in a safe and supportive environment. The centre prioritises work with children and young people experiencing difficulties and/or coming from a background of disadvantage.
Citadel Youth Centre, Service Manager said:
We are absolutely delighted that Trams for Newhaven have donated us Easter Eggs for the children who come to the Citadel. We have been running an Easter Playscheme and what better way to end the last day than everyone going home with an easter egg. We think there will be enough for some lucky parents too! Thank you :)