London Road to York Place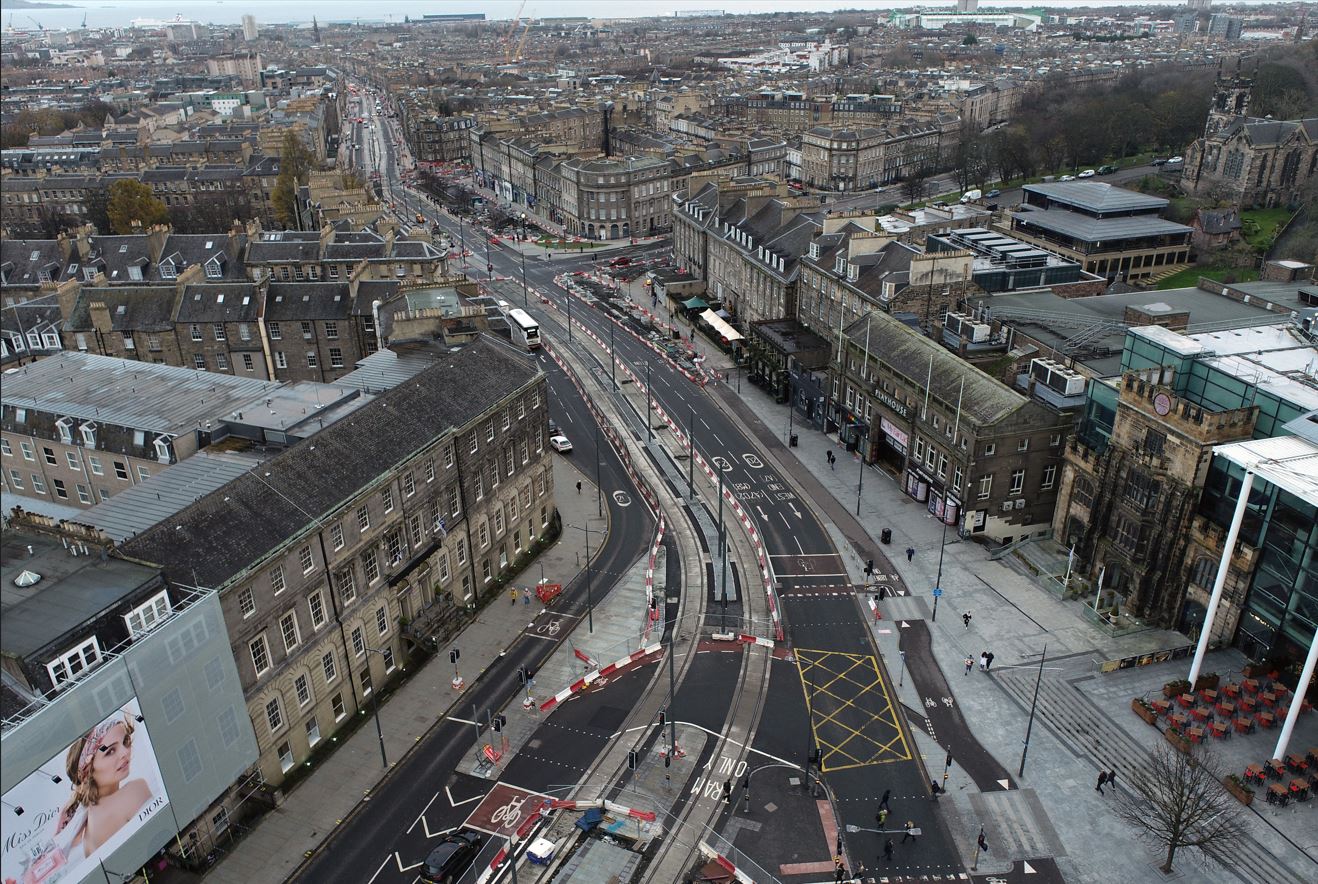 Work on building the tram route in this area began in October 2021. See estimated timelines of when work will be finished in this area.
This is the section between:
York Place to London Road
The temporary tram stop at York Place was decommissioned and removed to allow the installation of a crossover linking the existing line with the new route. These works, originally scheduled for April 2022, were completed ahead of schedule and Edinburgh Trams resumed services to St Andrew Square on Monday 28 March 2022. Works are currently ongoing on the creation of a permanent tram stop on Picardy Place.
Project works have commenced between Blenheim Place and Greenside Lane with arrangements expected to be in place until November 2022. There are three sequences of traffic management which will enable main infrastructure and landscaping works to be undertaken. Read more about the three sequences in our news article. Traffic management plans are available in the Downloads section. We have started the second sequence of carriageway works.

Works on the footways between Baxter's Place and Blenheim Place will be completed early 2023 with further information available in due course.
Traffic Management
The London Road junction has reopened to traffic.
There is no left turn from Leith Walk into London Road. Traffic coming from Leith Walk wishing to access London Road should do so by going via Picardy Place and then turn right onto London Road.
There is no right-hand turn from London Road onto Leith Walk. Traffic coming from London Road wishing to access Leith Walk should turn left and go via Picardy Place before heading straight onto Leith Walk.
The Picardy Place turn-back will be closed from 21- 25 November 2022 to all traffic for underground drainage connections.
Site lines at 8 Picardy Place will be extended during this time to support these works which will reduce the carriageway to one lane.
Traffic management plans are available in the Downloads section.
Annandale Street - Union Street hard landscaping works
Hard landscaping works are continuing between Annandale Street and progressing towards Union Street.
The creation of the new kerb lines has been ongoing within the established site. In order to complete works on the existing footway, we will be required to make changes to our site working arrangements which will see fence lines and works moving towards buildings between Gayfield Square and Union Street.
These changes are expected to take place from week commencing Monday 10 October.
Pedestrian diversions will be in place with access to shops, hospitality and leisure units always being maintained for members of the public, residents, and local shop owners.
On completion of these works, fence lines will be removed from the west side of the area. You can view the final designs here.
Pedestrian Crossings
Logistics Hub
The Logistics hub on Montgomery Street will be operational to help with deliveries and dispatches. Help will also be at hand at these logistics hubs for residents expecting large deliveries such as appliances or furniture. Loading bays outside Tesco on Picardy Place will remain in place and there will also be loading provision on Union Street.
Parking
All on-street parking will be removed in areas as required with parking enforcement in place. There will also be no waiting permitted from London Road for vehicles travelling city-bound.
Bins
From 29 May onwards, communal bins in the Annandale Street - Picardy Place area will be situated at the nearest side street to their existing location. The regularity of uplifts will be increased to ensure the area is kept clean and tidy and uplifts will take place in the evening to minimise traffic in the area at peak times.
Buses
The project has consulted with Lothian Buses on the proposed traffic management to allow the development of their bus diversion routes. Details of bus diversions can be found on the Lothian Buses website.
Cycling
As part of the design for Picardy Place, cycleways across the island site will connect City Centre West to East Link on York Place to the dedicated cycleway provision down to the Foot of the Walk that is being developed as part of the project.
Downloads: