London Road to York Place
Work on building the tram route in this area began in October 2021. See estimated timelines of when work will be finished in this area.
This is the section between:
York Place to London Road
Works were broken down into three phases. The first two phases included the extension of site from Picardy Place to York Place. The temporary tram stop at York Place was decommissioned and removed to allow the installation of a crossover linking the existing line with the new route. These works, originally scheduled for April 2022, were completed earlier than planned and, following a period of testing and commissioning on the existing tram infrastructure, including the cross-over on York Place, Edinburgh Trams resumed services to St Andrew Square on Monday 28 March 2022.
The third and final phase of works will include the creation of a permanent tram stop on Picardy Place and is scheduled to be completed by Autumn 2022, which will be followed by a period of testing and commissioning on the whole route.
During this phase the tram service will continue to terminate at St Andrew Square tram stop.
Traffic Management
From week commencing 18 April adjustments were made to the traffic management arrangements at London Road to progress all associated tram infrastructure works.
One lane of traffic will continue to travel northbound from York Place with access to London Road via a right-hand turn and straight ahead to access Gayfield Square, Leith Walk and Annandale Street. Traffic will be able to travel southbound from Leith Walk with a turn left option to London Road or straight on past Greenside Place for Leith Street, York Place and Broughton Street.
In addition there will be no right turn northbound onto Leith Walk for traffic travelling from London Road. Access will be by travelling round the construction site on Picardy Place and back towards Leith Walk.
The temporary loading bay area on Union Street will be maintained during these works.
Please note that from 29 May there will be changes to the existing sites and traffic management arrangements between Annandale Street and Picardy Place area to accommodate tram works. The works will be carried out in three sequences, further details of which can be found here.
During the first sequence traffic travelling city bound from London Road will be reduced to one-lane with the loading bays and taxi rank that are currently in place from 9 Baxter's Place to Greenside Lane being closed off and parking restrictions enforced to ensure traffic flows are maintained. In addition, the temporary bus stop that has been located in the centre reservation on Leith Walk will move to its permanent location adjacent to Elm Row. Traffic management plans for all three sequences of works in this area can be found below under the Downoads section.
Pedestrian Crossings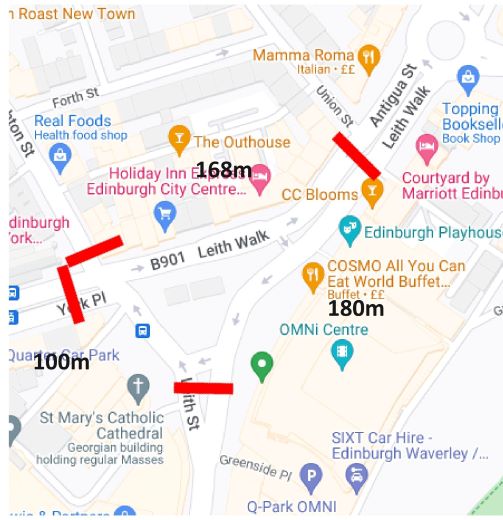 Logistics Hub
The Logistics hub on Montgomery Street will be operational to help with deliveries and dispatches. Help will also be at hand at these logistics hubs for residents expecting large deliveries such as appliances or furniture. Loading bays outside Tesco on Picardy Place will remain in place and there will also be loading provision on Union Street.
Parking
All on-street parking will be removed in areas as required with parking enforcement in place. There will also be no waiting permitted from London Road for vehicles travelling city-bound.
Bins
From 29 May onwards, communal bins in the Annandale Street - Picardy Place area will be situated at the nearest side street to their existing location. The regularity of uplifts will be increased to ensure the area is kept clean and tidy and uplifts will take place in the evening to minimise traffic in the area at peak times.
Buses
The project has consulted with Lothian Buses on the proposed traffic management to allow the development of their bus diversion routes. You can find further information of bus diversions and timetables at www.lothianbuses.com.
Cycling
As part of the design for Picardy Place, cycleways across the island site will connect City Centre West to East Link on York Place to the dedicated cycleway provision down to the Foot of the Walk that is being developed as part of the project.
Downloads: