Frequently asked questions
Taking trams to Newhaven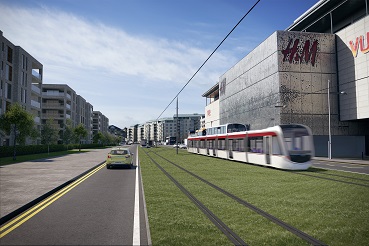 Answers to frequently asked questions about taking trams to Newhaven
Topics covered:
1. Local Impact
How will residents access the existing public transport network during the works?
During construction there will be some significant changes to how public transport operates. This means that your usual bus stop or taxi rank may move from its current location. However, we will ensure information associated with these changes is communicated in order to provide enough notice ahead of any changes. These communications will be made in a number of ways, e.g. updates on both the project and Lothian Buses websites and social media, on affected bus stops and on clear and up to date wayfinding maps distributed along the construction site.
We continue to work closely with Lothian Buses minimise disruption while maintaining the level of service required. You can find out more information via the Lothian Buses website as well as via the Transport for Edinburgh app.
How will access be maintained to Constitution Street?
Work on Constitution Street will take place across two phases. In phase one we will close the northern section between the North junction of Queen Charlotte Street to Constitution Place (estimated completion Autumn 2020) and the southern section between Coatfield Lane and Leith Walk (estimated completion Spring 2021). During these times the area between Queen Charlotte Street and Coatfield Lane will remain open. Local access will also be maintained within the phase one worksites.
In phase two the northern and southern sections will reopen while we work on the middle section between Queen Charlotte Street and Coatfield Lane (estimated completion Spring 2022). During this phase local access to Coatfield Lane will be maintained at all times. When the Leith Walk end of the street reopens, access from this end of the street will be restricted to buses and trams. Other road users will be able to access Constitution Street from all other current routes.
What will happen to local waste collections?
We are working closely with the Council Waste and Cleansing Team and Waste Compliance Team to ensure we take account of residential, commercial and on-street waste and recycling facilities when considering both the permanent design of the project as well as how these services are maintained during the construction phase of the project.
The aim is to be able to provide recycling facilities as well as general waste at specific locations to make recycling as easy as possible, to maintain the level of service required, to limit any additional distances to waste and recycling facilities and to comply with Scottish legislation. These locations have been identified considering different constraints (e.g. walking distance, parking, loading bays, pavement width and cycle paths).
Prior to, and during construction, we will provide advance notice of changes to location of waste and recycling facilities and when we need to move the location. We will always do our best to locate these as conveniently as is possible. As a general rule, they will be moved into the side streets just off the main route.
In addition, the contractor will be tasked with keeping the worksite and surrounding areas clean and reporting any waste issues.
What is happening at Cambridge Avenue and Arthur Place during the Leith Walk main construction works?
Access for residents on Balfour Street and the surrounding areas will be via a temporary one-way system using the entrance from Pilrig Street via Cambridge Avenue (Westbound) and exiting via Arthur Street. This will ensure that Cambridge Avenue is one-way from Pilrig Street to Balfour Street and Arthur Street will be one-way from Balfour Street to Pilrig Street (East Bound).
This one-way system is designed to maintain local access for residents during construction. This is a temporary measure and the road will return to its current layout as soon as the works are finished."
Why does the tram go along Constitution Street and not along Great Junction Street?
The original Business Case produced for the line and the Edinburgh Tram (Line 1) Act 2006 identified the preferred route along Leith Walk and Constitution Street. Alternative routes were identified along Easter Road instead of Leith Walk; and following Great Junction Street in Leith instead of the alignment through the Port of Leith. These were then evaluated in accordance with Scottish Transport Appraisal Guidance (STAG) against the following criteria
Environment;
Accessibility;
Integration;
Economy; and
Safety
The preferred option, to run trams along Leith Walk and Constitution Street, performed best and was clearly favourable on economic grounds. Great Junction Street performed demonstrably worse. The Easter Road alignment was less preferable to the Leith Walk alignment due to higher scheme costs and lower patronage demand forecasts and was therefore discounted.
Why is the Foot of the Walk stop on Constitution Street rather than at the bottom of Leith Walk?
We have considered the options of locating this stop either on the Leith Walk side of the Foot of the Walk junction or at the southern end of Constitution Street. Locating it at the Foot of the Walk would result in a number of issues in terms of both the spatial constraints at this location and in accommodating the various modes of transport including walking, active travel and traffic movements. This means that the tram stop located at the Foot of the Walk would significantly impact on bus and car movements and would lead to delays in operating the tram. For these reasons, the Foot of the Walk location was discounted and so the stop will be located on Constitution Street as per the current designs.
Where has the Balfour Street stop been moved to and why?
The stop at Balfour Street has been moved a short distance from the location on the original plans. It will now be sited further to the south (towards the city) with the platform end located at the junction of Balfour Street. The street will also benefit from traffic signals, allowing both right and left-hand turns in and out.
We moved the stop after receiving a large amount of feedback telling us that the location of the Balfour Street stop was problematic. Given that Balfour Street (and the cul-de-sacs of Cambridge Gardens, Cambridge Avenue and Springfield) are currently one way in and out, there were concerns raised about ease of access for residents. Your feedback sent us back to the drawing board and during the second round of consultation we presented the updated location for the stop. Of those who expressed a preference in our online consultation, 86% said they agreed the new stop location dealt with the issues raised during the first round of consultation.
How is the project managing utilities and the need for diversions?
While a significant number of major utilities were diverted as part of the original scheme, there is still a requirement to deal with residual utilities along the route. Any required diversions will be carried out in coordination with Morrison Utility Services (MUS) and relevant utility companies and at the direction of the project team.
Importantly, MUS will be working in sites prepared by our main civil engineering contractor – Sacyr Farrans Neopul JV - allowing the main tram works to commence immediately after the utility works are complete.
Following tests on some areas along the route we anticipate that we will need to move around 1,200 utility services. This includes electrical power lines, water pipes, telecommunication cables, gas pipes and sewerage and drainage systems.
Our engagement during the Early Contractor Involvement period has allowed all parties to work closely to plan these works.
Why does the traffic management on Leith Walk only accommodate one direction of traffic and not two-way traffic?
In order to provide the contractor with a site large enough to accommodate the excavation required to construct the tram infrastructure, we are constrained to only providing a single running lane for general traffic and buses. Had we provided two-way traffic either side of the construction site, we will require a significantly longer period of time to complete the Leith Walk section of the works. The construction methodology of providing the contractor with large worksites is commonly used on major transport projects and allows works to continue in other areas in the event an unexpected occurrence requires construction having to stop in a particular area. This is a key lesson learned from the first phase of tram.
Through communication with Lothian Buses, it was identified that a city bound running lane limited disruption associated with bus diversions as far as reasonably possible, while traffic diversion routes on both Easter Road and Bonnington Road can sufficiently accommodate Leith bound traffic.
Traffic modelling of the above diversions has confirmed that the alternative routes chosen can accommodate the increase in traffic volume.
Why is the project doing external surveys of all the buildings and internal surveys of listed buildings on the route?
The Council's main contractor Sacyr Farrans Neopul (SFN) is required to carry out surveys on properties adjacent to the route. The purpose of the survey is to record the existing structural condition of properties prior to the main work commencing and while we do not envisage any damage to properties resulting from the construction works, it is normal practice for a project of this nature that a means of identifying any issues is in place.
Surveying agent, Dougal Baillie Associates (DBA), has been appointed by SFN to carry out the property surveys. All properties facing directly onto the work site will be subject to an external inspection and in the case of listed buildings, it is important that internal examinations of premises are carried out. There are 111 listed buildings on the route.
The survey will entail photographs of the internal structure, measurements and note taking of all the details that are necessary to ensure a robust survey of the building structure is carried out. All of the surveying staff will carry DBA identification badges.
A copy of the survey findings will be made available to owners if requested.
Will there be any further consultation with residents and businesses with respect to the final design?
There will be one further round of consultation with the community once the designs have been finalised. The Traffic Regulation Order (TRO) consultation will commence during 2020 and will give residents and businesses the opportunity to view and comment on the proposals. The final designs currently being drawn up, following the significant amount of consultation the project undertook in 2018 and 2019 with the community. The final layout will take account of feedback received and will be a better reflection of the community's aspiration for the project.
Why does the wall on Constitution Street need to be taken down and rebuilt?
The South Leith Parish Church graveyard wall on the west side of Constitution Street is an A-listed Victorian era listed wall, which is in a relatively poor state of repair and could sustain further damage through the works.
Rather than risk further damage which could occur in an uncontrolled way, it is prudent to document the wall and remove it, so that it can be reconstructed. It will be carefully taken down prior to the tram construction works commencing to mitigate against potential damage to the wall, with the materials being retained and re-used to construct the wall back into its original position prior to completion of that section of the works. The memorials on the inner face of the wall will also be removed and protected so that they can be reinstated when the wall is re-built.
Taking down the wall ahead of the construction project, through what is the narrowest section on the route, will also provide the space required to construct the line through Constitution Street and will enable ample pavement space to be provided to allow those on foot to move around the area during construction.
As well as the removal and reinstatement of the wall, archaeological work will be required to exhume approximately 200 gravesites dating from between the 14th and 17th centuries. All work will be carried out under the leadership of the city archaeologist as well as external agencies. The work will not require any significant excavations beyond the wall into the graveyard itself and is being designed to avoid disturbing known burials within the present graveyard.
Exhumation of 14th - 17th century gravesites
As well as the removal and reinstatement of the wall, archaeological work will be required to exhume approximately 200 gravesites dating from between the 14th and 17th centuries. All work will be carried out under the leadership of the city archaeologist as well as external agencies. The work will not require any significant excavations beyond the wall into the graveyard itself and is being designed to avoid disturbing known burials within the present graveyard.
How much archaeology is the project expected to encounter and how has this been accounted for?
Leith has a very long and colourful history and is recognised as one of the most important urban archaeology sites in Scotland. This means we expect to find some items of archaeological interest as we begin to construct the line. Working with the Council archaeologist we have identified areas where discoveries are likely:
Baxter's Place Air Raid Shelter
South Leith Parish Church and surrounding area
Leith Fortifications
Ocean Terminal dock wall and fortifications
York Place
How is the project managing archaeological finds?
All archaeological finds will be managed in accordance with current Chartered Institute of Archaeologist standards. The City Archaeologist has been deeply involved in all project development in relation to archaeological scope and processes to be followed.
Robert Burns Statute and other monuments on the route
As part of the works, the Robert Burns statue situated on Bernard Street has been removed. It will be carefully stored, given some much needed refurbishment and relocated in the same area once construction is complete. During the removal of the statue a time capsule was discovered which contained artefacts from 1898 and 1961. You can read about the opening of the time capsule here.
In addition, the clock that was previously situated on the London Street roundabout is being refurbished and will be return to the new public realm around Elm Row (due for completion Autumn 2021). In addition, the famous bronze pigeons will also be returned to the same area as part of this project.
5. Project Management & Governance
What powers are the Council using to construct the line?
The tram is being delivered under the Edinburgh Tram (Line 1) Act 2006.
How will the Council ensure quality of workmanship?
There will be an onus on the contractor to develop a quality management plan to ensure the project delivery and construction meet the quality requirements set out by the Council. The project team will include supervisors and clerks of work who will monitor workmanship and ensure quality outputs are delivered.
The project will be adhering to a strict Code of Construction Practice which you can download.
Why does the line have to operate with OLE poles?
The current system operates with an overhead wire system and as such the existing fleet of vehicles are designed to operate in this manner. This project does not require additional vehicles to be added to the fleet and as such the line to Newhaven must operate with Overhead Line and therefore requires overhead line poles or building fixings to be put in place to support the wire.
Why have centre island platforms been chosen as design solution for stops?
Centre island platforms are a common solution for stops on light rail schemes. The island platforms have been chosen as the best way to introduce a stop with minimal impact to the area for other uses such as footway space, road use and cycling. Also, as the tram lines will run up the middle of Leith Walk, the most effective solution is island platforms in these instances.
Why is there no segregated cycling provision between Constitution Street and Ocean Terminal?
Due to width constraints on this section of the route between Constitution Street and Ocean Terminal we are unable to provide segregated cycle lanes. People on bikes will continue to be able to use the road alongside other vehicles as they do today, although entry to Constitution Street from the Leith Walk end will be restricted to trams and buses. This is because of the width restriction on the street and the dangers posed to cyclists where the tram lines run close to the kerb edge due to the platform arrangement. We are working with local cycle interest groups to develop alternative routes to keep cyclists moving around the area safely and conveniently.
How will cyclists travel from the Foot of the Walk onwards to Ocean Terminal?
We have been working with local cycle interest groups to develop alternative routes to keep cyclists moving around the area safely and conveniently. As a result of this we have secured further funding from the Sustrans Community Links programme to help progress design work to improve cycling options from the foot of Leith Walk. We will continue to work closely with our cycling community and active travel partners in the coming months to develop a solution that provides safe and convenient onward cycling options for the north of the city.
Why does the tram stop at York Place need to be demolished?
The tram stop at York Place will be demolished as the stop is currently located on top of the position for the tracks to be taken through to Picardy Place and beyond. The stop at York Place was always envisaged as being temporary and as such the track slab has already been constructed under the stop.
What will tram stops look like?
Stops on the new section of the tram line will follow similar design principles to those on the operational line.
Why does the design on Leith Walk include for a central reservation and why not put OLE poles on the footways?
The Central reservation was considered as part of the original consultation and community workshops. The inclusion of a central reserve predominantly allows the design to include all OLE poles and street lighting assets to be in the central reservation thus de-cluttering footways. This was considered at the community workshops and it was identified that by removing the central reservation and utilising side poles did not give any additional benefit in terms of footway/usable space and as such has been considered to be the most effective option. The introduction of a central reserve at 1.8m wide also allows for a safe refuge space when crossing the road on Leith Walk providing additional permeability from one side of the street to the other.
Why does the central reservation on Leith Walk need to be kerbed?
The Central reservation is kerbed to provide protection to the OLE poles and to restrict right hand turning manoeuvres at non-signalised junctions. This area, however, will now also be extended to 1.8m wide allowing for it to be lowered locally and utilised as a safe refuge point for crossing.
What happens to widened footway and outdoor seating at Nobles, etc?
The widened footway area outside the bars and cafes at the Bernard Street end of Constitution Street will be maintained as it is today once the works are complete. This means all local bars and cafes with outdoor seating areas will be able to continue to use the space as they do today.
What happens to public realm work installed on Constitution Street?
Once work is complete the public realm at Constitution Street will benefit from a series of improvements. This will include simplified crossing points for pedestrians, an increase in public space using natural stone paving, specimen trees, seating and cycle stands.
How does the design take cognisance of cyclist safety and the principles of design adopted along the route between Haymarket and York Place?
The design of cycling safety measures follows the same principles as those which form part of the current four stage safety improvement plan for Haymarket to York Place. This will include incorporating lessons learned from the Tram Safety consultation, from ongoing tram cyclist safety improvement work as well as local cycling and safety interest groups. The detailed design for cyclist crossings of the route is currently being developed with the Council's active travel team to ensure consistency of approach to that already installed between York Place and Haymarket.
How much green/ public realm space will be introduced as part of the design?
Major public realm works are planned for Elm Row, Ocean Terminal and Bernard Street. Here you will see improvements to the landscaping, paving, street lighting and public spaces. All monuments either currently in place or in storage would also be reintroduced. We also intend to will introduce benches, trees, grassed areas and improved pavements and road surfaces.
Will trees along the route need to be removed as part of the works?
The removal of any trees will only happen if there is no alternative. Under the terms of the contract, if a tree is removed it will be replaced by two trees of similar stature within the vicinity.
The City of Edinburgh Council recently pledged to be a one million tree city by 2030.
How does the Foot of the Walk stop fit within the constrained space on Constitution Street?
The stop at Foot of the Walk will sit at the Leith Walk end of Constitution Street. Space here is tight and so we are proposing side platforms that share space with the pavements. Any tram stop furniture will be minimised and fixed to buildings where possible.
Why has the right turn been banned from London Road on to Leith Walk and what is the alternative route?
Modelling has shown that the inclusion of a right-hand turn from London Road to Leith Walk will result in significant traffic delays on London Road and Leith Walk. To mitigate these delays, the design has removed the right-hand turn into Leith Walk. This design is also based on traffic count data that has shown there is limited demand for this movement. The alternative is to utilise the Picardy Place junction should traffic from London Road wish to head north on Leith Walk.
How will the extension integrate with the development in the Forth Ports area?
We are in ongoing discussions with Forth Ports and a group of developers who are likely to be on site around the same time as we will be constructing the tram line at this location. This forms part of a wider stakeholder/developer engagement and coordination programme. It is our aim to work closely with all developers along the route to coordinate where we can and to minimise disruption.
How does the tram alignment fit in at Newhaven following completion of the flats located at the junction of Lindsay Road and Sandpiper Drive?
The end of the line would follow the alignment of the grassed area in front of the flats that sit between Lindsay Road and Melrose Drive, terminating at Sandpiper Drive nest to ASDA. The road-side platform will share space with the pavement and neighbouring bus stop, allowing you to move easily between trams and buses.
How are the works at Picardy Place going to be integrated with minimal impact to the works installed by Edinburgh St James?
The team behind Edinburgh St James are installing new public realm at Picardy Place. As part of this they will maintain an undeveloped space where the tram stop would be located. During the development of the ESJ design, our team have coordinated our requirements through the design process including incorporation of spare ducting provision and sign bases to minimise disruption to the public realm space. The City of Edinburgh Council will be undertaking further engagement on the 'island site
Does the extension integrate with the Transport for Edinburgh cycle hire scheme?
We are working with the team behind the new city cycle hire scheme to ensure bike hire stations are conveniently located close to tram stops along the route.
How will bus services be affected once in operation?
Trams are intended to complement the bus offering, not replace them. The Leith Walk corridor is nearing capacity and with the local population expected to increase, we must act now to ensure public transport in the area does not become oversubscribed.
Will there be a transport interchange at Elm Row?
The stop at McDonald Road sits to the south of the street and on Elm Row/Haddington Place. You will be able to get off the tram at McDonald Road and walk to the bus stops at Elm Row/Gayfield Square in around 3 minutes. Alternatively, those coming from the west of the city can get off the tram at Picardy Place and walk to the bus stops at Elm Row/Gayfield Square in around 2 minutes.
Will there be a transport interchange Picardy Place?
Yes, the stop at Picardy Place will be located on the west side of the island site, with an additional platform allowing direct access onto the island site. You will be able to get off the tram at the Picardy Place stop and walk directly to the bus stops located in front of St Mary's Cathedral.
Will there be a transport interchange at Ocean Terminal?
Yes, a transport interchange will operate from the plaza outside the front of Ocean Terminal allowing people to move seamlessly between bus, tram and taxi.
Will buses be allowed to go through Constitution Street?
Yes, once work is complete buses will continue to use Constitution Street as they do today.
Has consideration been given to combined bus/tram stops, specifically at the Foot of the Walk stop?
The project team have reviewed the possibility of bus and tram sharing a single platform. This has a significant impact on tram journey times and will also require some form of stepped platform due to the differing alighting levels from the vehicles. As a result, there has been no further consideration for shared stops.
How will businesses survive – will there be compensation?
We are aware that there is likely to be some disruption to businesses during construction. The project team has consulted with local businesses on a £2.4m support for business scheme aimed at maintaining the vibrancy, accessibility and desirability of the area. The responses to the consultation have been reviewed with some changes made to better reflect the needs of local business.
What support measures are being considered as part of the Support for Business scheme?
A business continuity fund to allow small business to access funding to help alleviate short-term cash flow issues
Discount vouchers to spend in local shops, cafes and restaurants, with the business receiving the full sale amount and the Council paying the difference
An investment in the local area both during and after works commence will include window washing, a community mural painting project and litter picking
Business development support and advice to businesses along the route, including signposting to free business improvement courses.
Customer service staff at key junctions to help people get around and signpost them to information on the project
Logistics hubs at key junctions to provide short-term storage and last mile delivery for goods coming into premises and where the lorries or delivery vehicles are unable to park close enough to complete the delivery themselves
Parking at three locations along the worksite, replacing around 60% of the spaces lost during construction
A significant open for business campaign across digital channels (website, social media and digital screens) and offline channels (on-street signs, TV, Radio, billboards and newspapers) to help drive footfall to the area.
What is a logistics hub?
Logistics hubs will provide last mile support for large sized deliveries and dispatch items. They will consist of a site cabin, daytime storage and lined or fenced off loading areas for delivery vehicles.
Our team will be on hand six days a week to assist delivery drivers getting goods into and out of your premises using trolleys and cargo bikes.
Hubs will also provide on-street information to residents and businesses with an indoor seating area (should you fancy a cup of tea).
The logistics hub can also be used by residents for the delivery of bulky items such as sofas or fridge freezers. Please discuss these deliveries in advance with our logistic officers.
Where will hubs be located?
There will be five hubs at the following locations:
Mitchell Street
Foot of the Walk
Dalmeny Street
Albert Street
Montgomery Street
What hours do hubs operate?
Each hub will be open Monday – Friday from 8am – 6pm and Saturdays from 8am to 3pm.
Can a delivery driver make deliveries outside of these times?
Deliveries outside these hours will be managed by the businesses receiving the goods. We would advise businesses who expect to receive large deliveries outside of these times to contact their supplier to reschedule deliveries within operating hours, where we will be happy to provide any help you need. If deliveries are being made using a city or transit van while hubs are closed, please use one of the loading areas listed overleaf.
What type of vehicles should use the hubs?
Primarily, hubs will deal with deliveries from larger vehicles such as rigid- and fixed-axle lorries. Drivers of transit, city or similar sized vehicles should make use of dedicated loading bays next to the hubs as well as additional bays across the route.
Where else can I find loading for city and transit vans?
Additional unmanned loading bays will be provided at Annandale Street, Iona Street, Brunswick Street, Balfour Street and Lorne Street.
I'm making a delivery using a city or transit van, should I seek out delivery help from a member of staff?
In this case, you should attempt to make the delivery yourself. Should you require any help or access to a trolley, speak to a member of our team.
How do I get to a hub?
You can find more information including route maps for each hub location on our website.
Do I need to use a specific hub?
Yes, you will be notified in advance of which hub will service your business. Please ensure you communicate your hub location with any delivery drivers.
Can I pool my deliveries with other businesses?
Yes. Traders are encouraged to work together to facilitate multiple drops in the same geographical area, by the same vehicle. Regular communication between our team and businesses will continue to help identify any opportunities.
Help us help you
Help us make a success of logistics support with our handy checklist:
Let us know in advance when you expect a delivery or to send out bulky goods c
Inform your delivery driver of your hub location c
Speak with your suppliers to rearrange large deliveries outside of hub hours c
Engage our team and other businesses in your area to consolidate deliveries c
Sign up for cargo bike training course
Cargo bikes
Our logistics team are working in partnership with Sustrans to trial cargo bike deliveries in the city. A 3-wheeled electronic assist bike will be based at the logistics hub and used by our team to move goods around. From January 2020 businesses will also be able access free cargo bikes to make deliveries.
What design assessments and traffic modelling was carried out in regard to banning right turns from London Road onto Leith Walk, and what were the outputs?
Proposals for the redesign of the Leith Walk / London Road junction were previously considered as part of Leith Walk Phase 6. The existing layout has a very large footprint and acts as a barrier to pedestrian movement. In developing a new design, a key objective was to reduce the amount of space given to road traffic, while increasing the area given to active travel and an improved public realm. A full width pedestrian / cycle crossing at London Road was considered desirable to improve walking and cycling connectivity to and from Leith Walk. In order to accommodate these requirements, it was necessary to simplify the traffic signal staging by banning the right turn from London Road towards Leith Walk northbound and Annandale Street.
In the morning peak, the traffic modelling indicates that approximately 123 vehicles make the right turn from London Road to Leith Walk, of which only 24 are considered strategic and the remaining attributed to local trips. When the right turn is banned, virtually no vehicles travel from London Road to Leith Walk via Picardy Place. However, if a vehicle was to undertake this manoeuvre then there will be an additional travel time of approximately 84 seconds.
A significant proportion of the vehicles that turn right from London Road to Leith Walk travel along Annandale Street / East London Street to Broughton. Closing this turn provides an added benefit in that it prevents rat running along these streets. St Mary's Primary School is located on East London Street and banning this right turn results in approximately 180 fewer vehicles an hour passing this school during the morning peak.
Traffic modelling further indicates that currently it takes approximately 80 seconds to travel to the roundabout at London Street / Broughton Street via Picardy Place and 113 seconds via Annandale Street / East London Street. Once the right turn ban is imposed, the travel time to the London Street / Broughton Street roundabout via the redesigned Picardy Place is approximately 91 seconds.
What traffic modelling was carried out in regard to the proposal to divert all Leith bound traffic to Easter Road and Bonnington Road during the construction phase, and what were the outputs?
Traffic modelling of both morning and evening peak periods has been undertaken for these diversion routes.
With Leith Walk operating city-bound only, analysis shows that traffic volumes on Easter Road Leith-bound increase from an approximate average of 400 to 600 vehicles per hour in the morning peak. In the evening peak on Easter Road, traffic flows increase from around 350 to 600 vehicles per hour. To accommodate this increase in traffic flow junction improvements will be carried out at the Duke Street roundabout.
Leith-bound traffic on Bonnington Road increases from an approximate average of 300 to 400 vehicles per hour in the morning peak. In the evening peak on Bonnington Road, traffic flows increase from an average of 280 to 400 vehicles per hour.
What traffic modelling has been carried out in regard to the banning of general traffic from entering Constitution Street from Leith Walk? In the same vein by removing general traffic from the South End of Constitution Street what affect does this have on traffic displacement, specifically considering Duncan Place and Queen Charlotte Street?
Detailed transport modelling of the impacts of this change has been undertaken.
In the morning peak, approximately 200 vehicles per hour travel Leith bound on Constitution Street and 250 vehicles city bound. With Constitution Street closed to general traffic, approximately 40 extra vehicles per hour use Duncan Place Leith bound and 40 extra vehicles per hour use Henderson Street. The remaining 120 vehicles are more widely displaced, using alternative routes across the road network.
In the opposite citybound direction, with Constitution Street closed, approximately 65 extra vehicles per hour use Duncan Place, 115 extra vehicles use Henderson Street and the remaining 70 vehicles are displaced evenly around the road network. To alleviate this increase on Duncan Place the project team are currently appraising traffic calming measures within the area.
Modelling indicates that Queen Charlotte Street will also see a small reduction in traffic in both directions as a result of Constitution Street being closed to general traffic.
The design of the lower half of Leith Walk reduces road capacity and introduces a signalised release system for tram at Balfour Street. What affect does this have on car/traffic journey times on Leith Walk and what affect does this design have on traffic displacement?
Traffic flows on Leith Walk are reduced in both directions as a result of the implementation of tram and the closure of Constitution Street to general traffic. Between Balfour Street and the Foot of the Walk morning peak hourly traffic volumes reduce by approximately 100-200 vehicles Leith-bound and 250-400 vehicles city bound.
On the parallel section of Easter Road, traffic volumes increase by approximately 20-80 vehicles Leith bound and 10-150 vehicles city bound. Traffic volumes on the parallel section of Bonnington Road increase by approximately 10-25 vehicles Leith bound and 20-150 vehicles city bound.
As along other sections of the route, traffic signals will be coordinated to provide a tram green wave so that, under normal circumstances, trams travel between stops without delay. Over the lower section of Leith Walk, northbound trams will be released from the Balfour Street stop ahead of other vehicles, helping to keep a clear route ahead. City bound trams leave the Foot of Leith Walk stop in their own signal stage which again helps provide a clear path towards Balfour Street.
In the morning peak, the average modelled car journey time on Leith Walk between Pilrig Street and the Foot of the Walk is 1 minute 10 seconds. This increases to approximately 2 minutes 40 seconds with trams in place.
City bound, existing car journey times are approximately 1 minute 50 seconds, and these are forecast to increase to 2 minutes 35 seconds once the scheme is in place.
In addition to the signalised release system, increased journey times are a result of the additional signalised junctions at Manderston Street and Lorne Street, which are required as part of the tram project.
By stopping up Montgomery Street entirely what impact does this have on traffic displacement on surrounding streets, including Brunswick Road?
With the right turn from London Road to Leith Walk north prohibited and Montgomery Street stopped up entirely, there is the potential for east to northbound traffic to be displaced towards Brunswick Road.
Traffic modelling indicates that, under this scenario, an extra 100 vehicles per hour will use Brunswick Street westbound in the morning peak. To compensate, it is to make Brunswick Road westbound only at Leith Walk with eastbound traffic displaced to London Road and Albert St. Widened footway and additional cycling facilities will be provided from Tesco at Leith Walk towards Dicksonfield.
Traffic modelling indicates that there are approximately 240 vehicles travelling eastbound on Brunswick Street and Montgomery Street in the morning peak; the majority of these will be displaced to London Road once Brunswick Street is made westbound only and Montgomery Street is stopped up entirely.
What effect does the tram stop have at Bernard Street on the operation of the Bernard St / Baltic St / Constitution St junction?
The Shore tram stop is in close proximity to the Bernard St / Baltic St / Constitution St junction. It is unusual in that it is the only stop where general traffic is permitted in the lane adjacent to the platform.
The closure of Constitution Street to general traffic at Leith Walk results in a reduction in through traffic on the approach to the Bernard Street / Baltic Street / Constitution Street junction. To allow Newhaven-bound trams to operate efficiently, it is that the Constitution St arm is double cycled; meaning the first stage operates to flush out traffic in advance of a tram approaching The Shore stop while the second stage, which runs approximately 35 seconds later, releases trams towards Newhaven.