20mph materials are available to help you promote the 20mph message in your community.
The more awareness there is locally, the more likely it is that people will slow down and make our streets safer.
By driving at 20mph and displaying a car sticker in your rear windscreen, you will act as a pace car. When people are driving behind you they will see the sticker and understand why you are driving at 20mph.
Email [email protected] to order any of the following resources.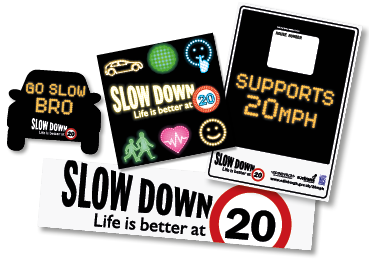 A4 Poster
Leaflet
Stickers for cars, people and wheelie bins
Car air fresheners.