Latest News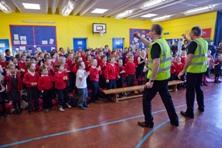 The Road Safety Magic Show returns in 2019
Published: Friday, 09 August 2019
Back by popular demand - the 2 Allans take their popular road safety show to schools in November.
The two Allans from Allans Magic will be touring Edinburgh Schools once again with their road safety messages including 'be safe be seen' and 'cycle helmets'. The show is a funny fast paced and interactive look at road safety for young children from P1 to P3. We have a 3 year rolling programme taking the event to all schools, and ensuring that all children will get to see it whilst they are in Primary 1 to Primary 3.
We will soon be contacting the schools who are due to have a performance this year - so keep an eye on your inbox!
There is also more information about the show on our Road Safety Drama pages.
RSS version
|
What is RSS?