Latest News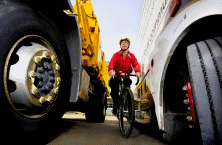 Lorries Drivers in the saddle
Published: Friday, 09 May 2014
The City of Edinburgh Council are running a course for it's HGV drivers to give them an appreciation of a cyclists point of view
A group of Council lorry drivers have taken to the saddle as part of a scheme to help make them more aware of the dangers facing cyclists on the roads.
In the first course of its kind in Scotland, drivers swapped six wheels for two in an effort to understand the perceptions of cyclists using the city's roads.
Class members were also given the opportunity to develop their own cycling skills and, as a result, formulate driving plans to ensure other road users' safety by putting themselves in their position.
The pilot initiative consists of theory and practical sessions, created to encourage drivers to empathise with vulnerable road users and the safety issues they experience. The practical sessions have been developed with the support of Cycling Scotland, the national organisation for the promotion of cycling.
Participants returned to the classroom to learn about vulnerable road users, including pedestrians, motorcyclists and scooter riders as well as cyclists, and how best to share the space with them.
STV news showed a video of the course and
RSS version
|
What is RSS?