Latest News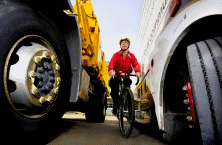 Drive Safe Cycle Safe - HGV's and Cyclists
Published: Sunday, 24 March 2013
The Drive Safe Cycle Safe campaign will raise awareness of the dangers posed to cyclists by large vehicles.
Streets Ahead Road Safety in Edinburgh will launch the latest Drive Safe Cycle Safe campaign on Monday 18th March with new advertising across the city. This campaign will focus on the danger to cyclists when caught in the blind spot of large vehicles. Often drivers are unable to see cyclists alongside their vehicle when turning left. The Streets Ahead campaign will appear on Lothian buses, on billboards and on Radio Forth throughout March 2013.
Read more about our campaign on the Drive Safe Cyle Safe pages.

RSS version
|
What is RSS?