Latest News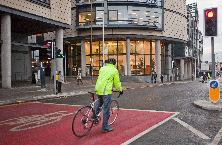 Drive Safe, Cycle Safe
Published: Friday, 30 March 2012
Our Easter promotion focussed on both cyclist and driver behaviour and a series of roadshows highlighted the use of Advanced Stop Lines in the city.
This campaign aims to increase awareness for rules of the road, and create respect amongst road users.
Of particular relevance are behaviours when traffic signals turn red. At signalised junctions with an advanced stop line vehicles must stop behind the first line, and cycles must stop behind the second line.
Both rules are legally enforceable.
Being positioned ahead of motor vehicles at signalised junctions helps cyclists to be more visible, and allows them to move off in front of other vehicles more safely. This is increasingly relevant as cycling levels in our city continue to grow. You can find more information on our Drive Safe, Cycle Safe campaign page by clicking here.
Other awareness campaigns are planned throughout 2012, including a focus on large goods vehicles and cyclist interaction, helping make our streets safer for all.
RSS version
|
What is RSS?